To ignite our creativity in any area of our lives, including bed and sex, motivators are required. 
Why not watch some  erotic movies for couples? They can be great intellectual stimuli and can increase libido.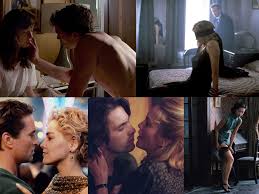 We've chosen nine very exciting erotic films that your sexual drive will find impossible to resist, whether you choose to watch them alone or with a partner. 
So remove your taboos and have fun!
Secretary (2002)
A young lady who has just been released from a mental institution accepts a position as a demanding lawyer's secretary, where their working relationship develops into a sexually sadomasochistic one. 
The setting for a highly uncommon sexual romantic drama is sadomasochism. 
The movie isn't for everyone, but it does have both amusing and strange moments. In a brave performance, Maggie Gyllenhaal excels.( Read: Black Halls and Stoney - What it does to women sexually
Love (2015)
If you're looking for an erotic movie that utterly takes you by surprise, go no further. This is the film "Love" by director Gaspar Noé, with its exquisitely detailed scenery, artwork, and soundtrack. 
Murphy and Electra, a young couple in Paris, are the subjects of the love story told in Love. 
From the beginning of their relationship, they have experienced very intense emotionality and very active sex life, which is symbolized by the time they invite their neighbor to bed.
Throughout the movie, we can see all of the couple's ires and venires from their sexual exploration, together with the emotionality that is so defining of the protagonists. 
The movie contains words that will stick in your head for days, naked bodies that are entirely exposed, completely explicit, and actual sex scenes that are both beautiful and true, which will make you want to sex.
Rea also: Hot Wrap Sex Position - Best sex for deeper penetration
9 1/2 weeks
An obvious bed-breaker is this one. A sexy young woman and a dumped lover get together to engage in several sexual pranks. 
Couples frequently indulge in anonymous sex, which frequently takes the form of role-playing.
 If you're looking for a movie that will more than subtly trigger you to have your hormones accelerated, this one's for you.
Professor Marston and the Wonder Women' (2017)
Threesomes are not the answer to a strained relationship. But if you and your partner are interested in learning more about the amazing world of polyamory, you may take a little step forward by viewing this charming movie on Hulu.
Inventor of Wonder Woman William Marston (played by Luke Evans), his wife Elizabeth (Rebecca Hall), and their polyamorous life partner Olive Byrne are the subjects of both a history lesson and a love story. 
The three of them share a tender love that is even hotter than the steamy sex.
Read also: Pink Pussycat Pills | What You Need to Know About It
Lucia and sex (2001)
"Lucia y el sexo," a 2001 Spanish sexual film directed by Julio Medem, ranks among the greatest. 
It tells the tale of Lucia, a young woman who relocates to Formentera as a result of her boyfriend's puzzling absence. 
She will be able to fully explore her sexuality and enjoy the freedom to which she was not used there. 
An sexy movie whose sex scenes are not tempting, so we advise you to let your imagination go wild and realize some of your sexual desires through Lucia.
Nymphomaniac (2013)
Nymphomaniac, directed by Danish filmmaker Lars Von Trier, is another of the more provocative erotic movies of modern cinema.
 It tells this story in two parts. However, this is not simply another erotic movie to enjoy together because it has a compelling and unsettling narrative that will leave you thinking endlessly about its past as you enjoy and raise the temperature with their sex scenes.
The narrative in the movie is told in the first person by a lady named Joe who has nymphomania. 
As she contemplates her conflict between her logical side and her sexual inclinations, which ultimately lead her astray, the movie depicts the development of her sexuality from childhood to adulthood. 
Read also : Osaphobia: Fear for Oral Sex - Causes, Risk, Symptoms, Treatment
9 songs (2004)
This great sensual film, in which the sex between the young protagonist pair is set to rock songs by bands as iconic as Black Rebel Motorcycle Club and Franz Ferdinand, is a must-see if the phrase "sex and rock'n'roll" seduces you. 
The seductive and daring scenes will compel you to view this erotica as a couple. 
Perhaps one thing will lead to another.
Fifty shadows of Grey (2015, 2017, 2018)
The series of films based on the best-selling novel "Fifty Shadows of Grey" has to be included on this list of sexual films to watch with a partner or alone. 
Your sexual sequences are erotic enough for newcomers to the erotic film genre, especially when you play with a little sadomasochism.
These sequences, which are not as graphic as others, are interspersed with the love story between the main characters, a young millionaire with sexual preferences that are distinct from those of the ordinary young woman with whom he falls in love.
The dreamers (2003)
Bernardo Bertolucci, who at the time had previously directed the contentious pornographic film ltimo tango en Pars, provides us with another another of his famoussensual cassettes. 
This one centers on an intensely sexual and emotionally charged tale between two brothers named Isabelle and Théo who start down the path of love.
While his parents are away, he engages in sexual and emotional exploration with his American friend Matthew.
Couples will find this erotic movie much more engaging as a result of the protagonists' love of movies, who start experimenting with games and their sexual curiosities while also expressing their political, social, and cultural ideas.