The joy and excitement that comes with pregnancy and expectancy are always magical but how well are you prepared for the journey, especially breastfeeding?
Have you ever considered the stress of crossing your legs, sitting on an unpadded seat, or jumping from one position to another because of the lack of a good nursing chair that can make the process enjoyable?
The good news is here, this post is about bringing to your knowledge the different types of nursing chairs, and the reasons you should choose a nice brand for yourself so let's get started.
Best nursing chairs for breastfeeding mothers 
The best nursing chair for breastfeeding mothers include
  Obaby Reclining Glider Chair and Stool

  Ikea Poang Chair

  Ickle Bubba Dursley Rocking Chair & Stool

  Costway Nursing Glider and Footstall

  Mamas & Papas Hilston Nursing Chair

  Sereno Nursing Glider and Footstall

  Pottery Barn Kids Wingback Reclining Nursing Chair

  Tutti Bambini Noah Rocking Chair, 

  Obaby high back rocking chair

  Lilies & Lions Rocking Armchair
Read Also: Can a Girl Get Pregnant if a Boy Touches her Breast With Mouth? 6 signs of pregnancy.
1. Obaby Reclining Glider Chair and Stool
When you want to talk about comfort while breastfeeding, then this is the best brand for comfort.
This nursing chair helps you relax while also lulling your infant to sleep thanks to its smooth gliding action. 
You can effortlessly change the backrest angle, and there are an astounding seven configurations to select from, so you can always find the ideal seating position for you. 
Extra-deep cushions add to the comfort, and arm cushions have a useful storage pocket.
If you're having trouble using a regular armchair for nursing mothers, this branch offers a footstool that you should check out.
The best chair for lengthy night feeds is this one 
Lastly, you can sit in the chair and rock the baby to sleep, instead of standing up to do so.
2. Ikea Poang Chair
Ikea poang chair is also known as the Best budget nursing chair.
This high-backed seat is a favourite among mothers despite not being specifically made as a nursing chair. 
A matching footstool is available separately, and the coverings are machine-washable and detachable, making cleaning simple. 
Although it doesn't rock or recline, this chair is of great value.
Ikea Poang Chair doesn't have a separate footstool or reclining mechanisms, but the angle is well-designed; 
It's upright enough to make feeding comfortable while also allowing the body to recline and unwind at the same time during breastfeeding. 
This nursing chair makes the baby's legs fit beneath the open armrests and less crammed into the chair. 
Finally, when it comes to price, this is the breastfeeding chair we will suggest the most because of the great pricing.
3. Ickle Bubba Dursley Rocking Chair & Stool
Ickle Bubba's Dursley Rocking Chair, one of the most aesthetically beautiful nursing chairs we've seen, bridges the gap between style and functionality and would look fantastic in any nursery.
The two recently released colourways, Sunshine and Mono, and the other two colours in the collection, Pearl Grey and Blush Pink, confirm that it is a rocking chair with a modern aesthetic. 
Its soft suedette padding makes it strong but not unpleasant, and the fact that the coordinating footstool can also be rocked is an added plus.
The well-thought-out design, in addition to being cosy and useful, also includes useful elements like roomy armrest pockets that double as fantastic locations to put all of the equipment that comes with having little ones, as well as refreshments for tired parents.
4. Costway Nursing Glider and Footstall
The Costway Nursing Chair's high-density sponge-filled padded cushions properly conform to your body, allowing you to unwind while nursing your child.
 After prolonged hours of feeding or resting, the microfibre material feels soft and comfy.
The timber structure, which is strong and durable and offers superb lumbar support, is something you can feel and trust.
This nursing chair glides quietly and smoothly due to the amazing slow swing feature. 
The padded ottoman is also a nice addition because it provides additional relaxation for the rest of your body and swings slowly while you glide.
Additionally, there are detachable storage armrest pockets, allowing you to keep your essentials close by or carry them around with you as storage bags after you have finished.
5. Mamas & Papas Hilston Nursing Chair
Thanks to its sleek appearance that blends well with other pieces of furniture, this exquisite chair will be the focal point of any modern nursery or living area. 
Because it wouldn't look out of place in other parts of the house, this makes it perfect for use after the newborn years.
Its ergonomic form will serve to offer plenty of support in addition to looking the part. 
It has positioned the arms to be at the height that's most effective and comfortable for feeding, while the solid oak legs create a smooth rocking motion. 
The resilient fabric and reversible cushion are easily removable for quick cleaning needs as well.
Keep in mind that the chair does not come with a matching footstool, but you can still purchase both for a slightly more expensive price each.
Recommended for you: Breast Discharge - Why is my breast bringing out water?
6. Sereno Nursing Glider and Footstool
This nursing chair, which comes in two colours, features seven reclining modes that you can lock into place.
The chair has smooth, rounded corners and is constructed of stain-resistant fabric that is easy to clean with a sponge.
Spending hours feeding on the sofa, while comfortable, is quite low and soft and can result in back and leg pains. 
However, this brand has a glide lock, so you are not required to constantly rock. 
It has convenient storage pockets at the side for holding books, water, phones, snacks, and other items.
It is very cosy and supportive. 
Last but not least, it can be used as a chair to assist you to fall asleep, relieving some of the tension on your arms from walking to sleep.
7. Pottery Barn Kids Wingback Reclining Nursing Chair
This wingback reclining armchair, at the upper end of the pricing range, justifies its cost with unmatched comfort. 
It is also not too big to touch the floor, though the chair can recline and has a floating footrest if you need one.
In addition to reclining, this nursing chair has additional features like the ability to rock and swivel, giving you a variety of options for soothing and feeding your baby. 
However, we recommend the recline setting most highly for a well-earned rest if you've managed to find a few moments to yourself.
If you can justify the cost of the item given its style and comfort levels, it is worth the investment beyond the nursery
8. Tutti Bambini Noah Rocking Chair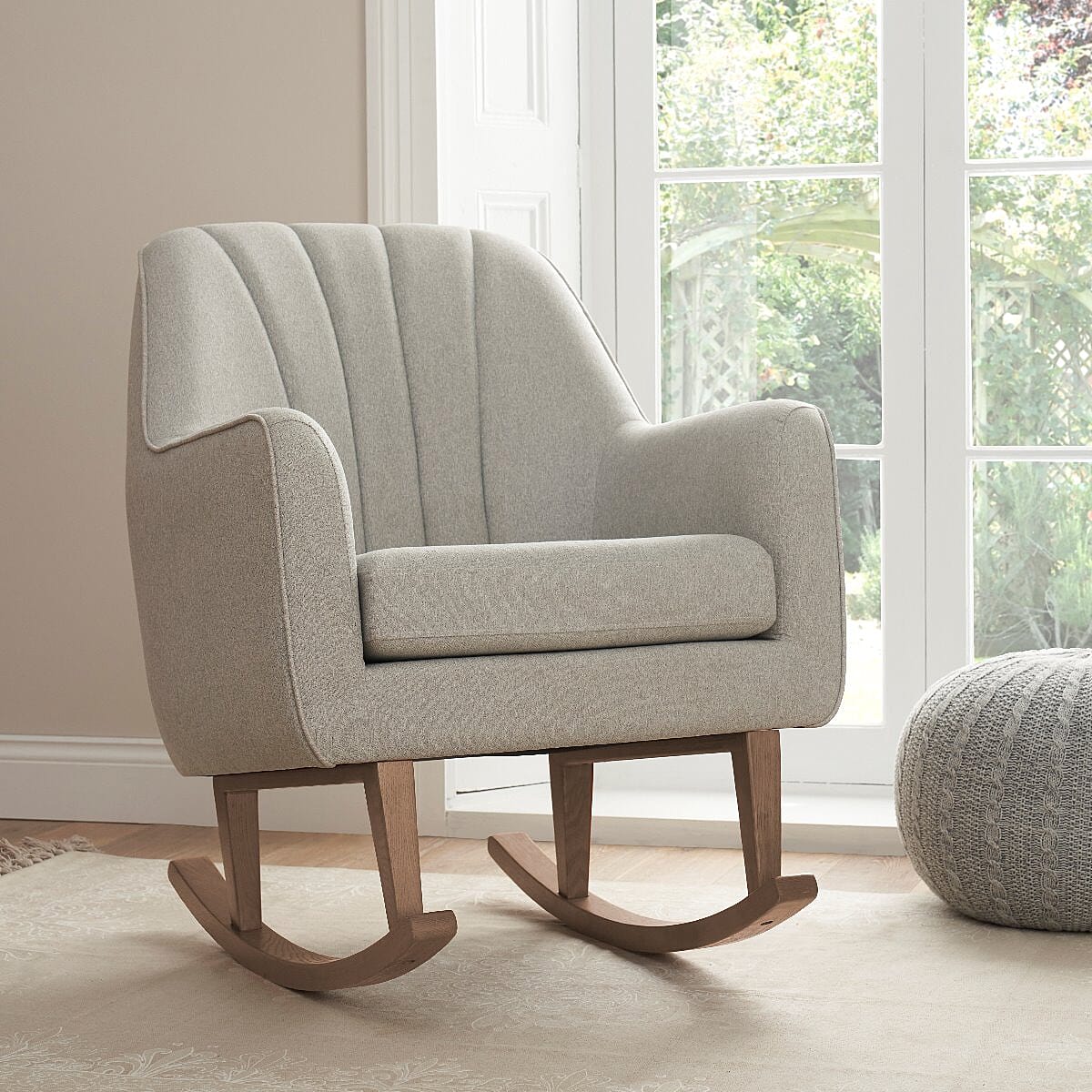 When you are talking about a nursing chair for a breastfeeding mother that can cover your luxury, then this brand is the best offer.
This elegant chair glides easily and features three recline positions, a footstool that matches, and plush upholstery. 
The chair's comfort and space were noted by each of our testers. 
If you want one that you can keep using for cuddling or storytime with older kids, this is a great purchase.
It comes with a footstool, and it was by far the most comfortable chair we tested. 
It feels opulent, and a nursing mother could sit in it for hours without experiencing any pain or discomfort. 
For the best nursing experience and breastfeeding the major feature one desires from a nursing chair that sits for her baby is present in this brand.
9. Obaby High-Back Rocking Chair
You will feel quite supported in the Obaby rocking chair because of its high back cushion. 
This chair is solid but sculpting with a strong timber frame and large foam cushions so you may feel relaxed without sacrificing your posture.
It's perfect for relieving stress at any time of the day because of its steady rocking motion for both you and your infant. 
The sturdy weaved upholstery and soothing, neutral colour of this chair make it suitable for most nurseries and adaptable to any living area in your house.
10. Lilies & Lions Rocking Armchair
Although pricey, the elegant Louis XV style of this plush rocking chairs from Lilies & Lions adds a classy touch to the nursery.
The hand-carved details give the piece a more opulent appearance, and the plush upholstery is comfortable for feeding or cuddling.
Although seen in grey, the solid wood frame can be customized with a different upholstery pattern to create a custom chair. 
One for people who like to indulge in a little indulgence.
Read Also: 13 healthy ways to lose weight after childbirth and during breastfeeding in Nigeria 
Recommendations 
One of the reasons we have nursing chairs is to provide comfort to both the mother and the child during breastfeeding.
But it is very very important that when you are about to purchase a nursing chair for breastfeeding mothers or you want to give it out as a gift you look out for the following in your brand of choice, is it best comfort, luxury, ample padding, easy cleaning, and even according to your budget among the brands mentioned above.
However, if you want me to give you a suggestion based on my experience I'll say go for "Pottery Barn Kids Wingback Reclining Nursing Chair" (the number 7 on our list). We recommend this chair because of the recline setting most highly for a well-earned rest if you've managed to find a few moments to yourself.
In conclusion 
There is nothing wrong with using your normal chair as a nursing chair while breastfeeding your baby.
But there is always something to be grateful for if you can add a nursing chair to the list of things to purchase in preparation to receive your newborn.
With the best of designs to fit in your house arrangements, additional back support, armrest, and every other good news that comes with a nursing chair, you need one in your house when you have a new baby.