You are busy consuming yoghurt when you are pregnant, have you ever consider the best yoghurt brand to consume during pregnancy? Yogurt is a type of fermented milk that is flavored and provides health benefits for the body. A significant portion of this can be related to the nutritional make-up of this milk. There are a lot of yogurt producers in Nigeria, and their products all taste slightly different from one another. Let's take a look at some of the most popular yoghurt brands sold and the best yoghurt brand to consume during pregnancy in Nigeria.
Best Yoghurt brand to consume during pregnancy in Nigeria
The following are some of the most popular brands of yogurt sold in the country and the best yoghurt brand to consume during pregnancy.
Hollandia Yoghurt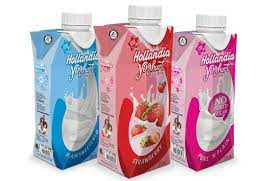 Photo credit: Packetz & Piecez
Hollania yoghurt is one of the best yoghurt brand to consume during pregnancy. Within the Nigerian yogurt market, Hollandia is a well-known and respected brand name. This business is well-known for offering a variety of yoghurt drinks that are both tasty and good for you. It is bursting to the seams with the vitality and vitamins that come from natural fruits. The six flavors of Hollandia yoghurt include plain sweetened, strawberry, coconut, orange, pineapple, and plain green apple.
Because Hollandia offers such a diverse selection of flavors, one can never become bored with the flavor of yogurt because there is always something new to try. Yoghurt from Hollandia can be consumed either as a breakfast food or a sweet treat, depending on how and when it is prepared. In either case, you are going to get the most out of the experience.
Fresh Yo Yoghurt
Photo credit: Tundelaniran
Fresh Yo Yoghurt can be purchased in many different tastes, some of which include basic sweet, vanilla, strawberry, and others. This particular brand makes a beverage that is scrumptious as well as invigorating, and it is designed to appeal to customers of all ages, even young children. A fresh Yo Yoghurt drink is the perfect choice for anybody, anywhere, and at all times of the day. Fresh Yo Yoghurt contains a wide variety of wholesome ingredients that are beneficial to one's health and are used in its production.
Habib Yoghurt
Photo credit: Nigeria Business Directory
Due to the high level of quality it possesses, Habib Yoghurt is a popular choice among many Nigerians. The brand offers frozen yogurts that may be customized with a variety of different fresh toppings. The flavor of Habib Yoghurt is renowned for being absolutely mouthwatering. You can now choose from a wide range of packaging options for your Habib Yoghurt purchase to best meet your requirements.
Only natural ingredients are utilized in the production of Habib Yoghurt. It has a high vitamin A content and provides the body with the greatest possible nourishment. In addition to this, the brand abides by all administrative rules on quality control and environmental protection.
Fage Yoghurt
Photo credit: Fage Yoghurt
You may anticipate that Fage Yogurt will provide you with yoghurt that is dense and velvety in texture and is produced totally from milk together with live, active yoghurt cultures. The product line provides a selection of yoghurts that each feature toppings that are equally luscious and creamy.
The quality of this milk is quite high. Fage Yoghurt goes through a painstaking and thorough process in order to get rid of the whey content and create a luxurious and velvety texture for the drink.
Fage Yoghurt is a strained yoghurt that does not include any lactose. Fage Yoghurt has a reduced amount of fat. Because of its naturally high levels of protein and calcium, this dish truly stands out from the crowd. People who are trying to cut back on their sugar consumption would benefit greatly from consuming Fage Yoghurt because it does not contain any added yoghurt.
Mich & Kay Low-fat Greek Yoghurt
As a result of the fact that it is one of the most well-known brands of Greek yoghurt in Nigeria, Mich & Kay Greek Yoghurt is favored by a sizeable number of consumers. One of the benefits of their milk is that it contains a relatively small amount of fat and is, therefore, suitable for consumers of any age or who have any kind of health condition.
The Mic & Kay dessert is a delectable treat that is rich in texture but contains no fat. The flavor and consistency of the product are not compromised in any way, despite the reduced amount of fat that it contains. This yogurt has a high protein content and does not contain any added artificial colors or preservatives. It is completely free of artificial components and is packaged in a container that does not contain BPA.
In addition, the straining process used to make Mich & Kay Greek yoghurt separates it from other types of yoghurt because the whey that would normally be present has been eliminated. The consumer will have a positive experience with the yogurt because it has less sugar and a flavor that is luscious and wonderful despite the reduction in sugar content.
Keziah Yoghurt 
The Keziah Yoghurt brand is another one on the list. This is a well-known and widely consumed brand of unsweetened thick yoghurt across the nation. Keziah makes one of the best frozen yoghurts from farm dairy that is grown locally. She does this with the intention of giving yoghurt aficionados with yoghurt that is both nutrient-dense and delicious. The company uses only the highest quality milk in the production of its yoghurt and takes great care to maintain this standard. Keziah yoghurt is a nutritious option due to the high levels of protein and vitamins that it contains. Keziah Yoghurt can be found at a variety of Nigerian stores and enterprises.
Farmfresh Yoghurt
One of the most well-liked yoghurt beverages in Nigeria is called Farmfresh Yoghurt. Farmfresh is made from fresh cow's milk that has been partially skimmed and includes a culture that is both alive and active.
Because of its high protein content, Farmfresh Yoghurt is a fantastic alternative for anyone looking to lose weight. Many people who are attempting to lose weight or keep it the same will find that Farmfresh Yoghurt is the ideal supplement for their efforts.
Carbohydrates, vitamins, and minerals are the other types of nutrients that are present in farm-fresh yogurt.
This yoghurt does not contain any added preservatives of any kind. There are seven natural flavors available to choose from when purchasing stirred yoghurt cups. Some of these tastes include vanilla, pineapple ,strawberry, and mango. Not only is farm fresh yoghurt a delectable snack option, but it is also an excellent source of calcium.