Indulge in the delightful world of Carrot Cake Cupcakes, a moist and flavorful treat that combines the goodness of carrots with the sweetness of a classic cake.
In this article, we'll guide you through the process of creating these delectable cupcakes, providing all the essential information you need to make this recipe a mouthwatering success.
Firstly, What Are Carrot Cake Cupcakes?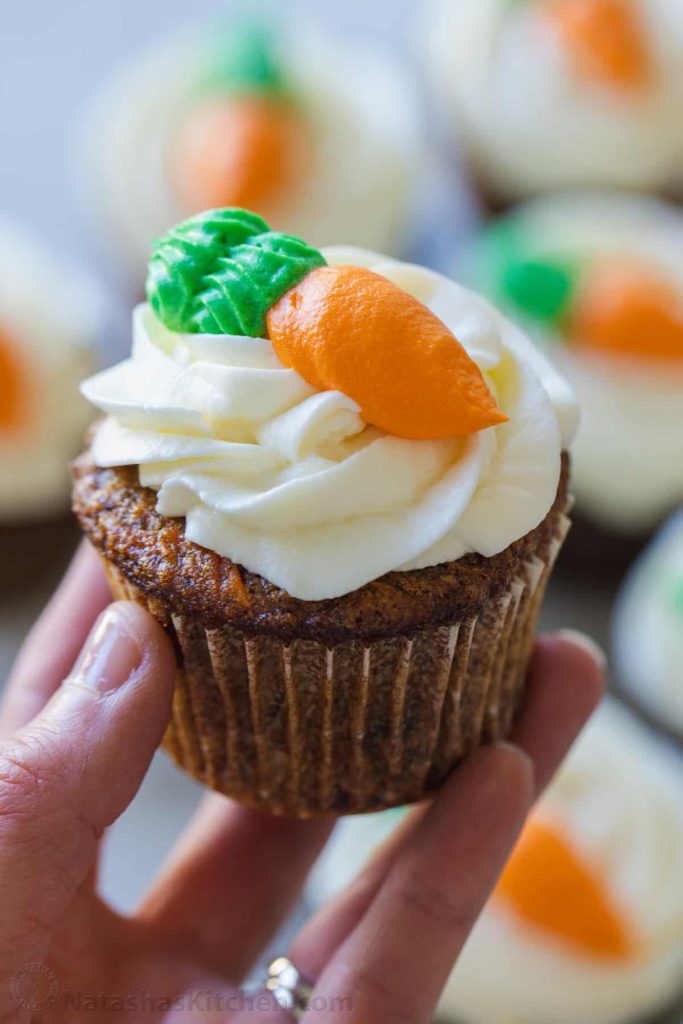 Carrot cake cupcakes are a delightful twist on the traditional carrot cake. These irresistible mini cakes are perfect for individual servings and offer a convenient option for parties, gatherings, or even a simple afternoon snack1https://sugarspunrun.com/carrot-cake-cupcakes/#recipe.
Combining the earthy essence of freshly grated carrots with aromatic spices and a luscious cream cheese frosting, these cupcakes embody the perfect balance of flavors2https://sallysbakingaddiction.com/carrot-cake-cupcakes/#tasty-recipes-106013.
Nutritional Information per Serving
Calories: 219 kcal

Carbohydrates: 19g

Protein: 2g

Fat: 15g

Saturated Fat: 1g

Cholesterol: 31mg

Sodium: 179 mg

Potassium: 46mg

Fiber: 1g

Sugar: 9g

Vitamin A: 45IU
Calcium: 18mg
Iron: 1mg
Recipe For Making Carrot Cake Cupcakes
Prep Time

: 25 mins

Cook Time

: 20 mins

Total Time

: 45 mins

Servings

: 12

Cuisine

: American

Course

: cupcakes
Equipments and Kitchen Utensils Used
Before we begin, make sure you have the following kitchen essentials:
Cupcake/muffin tray

Cupcake liners

Mixing bowls

Grater

Electric mixer (or hand whisk)

Rubber spatula

Piping bag and nozzle (optional)

Cooling rack
Ingredients
1 ¼ cups of all-purpose flour (157g) 

½ cup of granulated sugar (100g) 

½ cup of light brown sugar packed (100g) 

¾ teaspoon of baking soda 

½ teaspoon of baking powder 

½ teaspoon of salt 

1 teaspoon of cinnamon

 ¼ teaspoon of nutmeg

 ¾ cups of canola oil (180ml) 

2 large eggs at room temperature 

1 ½ teaspoons of vanilla extract 

2 Tablespoons of milk 

1 ½ cups of grated carrots (170g)

½ cup of chopped walnuts or pecans, optional (60g)

1 batch of Cream Cheese Frosting.
Magic Recipe For Making Scrumptious Carrot Cake Cupcakes
Preheat the oven to 350 F and line the cupcake tray with liners.

In a large mixing bowl, combine the dry ingredients

In a separate bowl, whisk together the wet ingredients

Gradually fold the dry ingredients into the wet mixture until just combined. Be careful not to overmix.

Gently fold in the grated carrots, ensuring an even distribution in the batter.

Scoop the batter into the cupcake liners, filling each about two-thirds full.

Bake in the preheated oven for 20 minutes or until a toothpick inserted comes out clean.

Once baked, transfer the cupcakes to a cooling rack and let them cool completely.
How to Get the Most out of this Recipe
To add an extra crunch, sprinkle chopped nuts on top of the cream cheese frosting.

Experiment with different spices like nutmeg or ginger for a unique flavor profile.

Serve the cupcakes warm with a scoop of vanilla ice cream for a delightful dessert.
Recipe Notes
Store the cupcakes in an airtight container to maintain freshness.

You can substitute some of the sugar with natural sweeteners like honey or maple syrup for a healthier version.

Customize the cream cheese frosting by adding lemon zest or orange extract for a citrusy twist.
Carrot Cake Cupcakes: The Sweetest Treat You'll Ever Make
In conclusion, Carrot Cake Cupcakes are a delightful and easy-to-make treat that will undoubtedly win the hearts of everyone who takes a bite. The fusion of sweet, spicy, and moist flavors makes these cupcakes a surefire hit for any occasion3https://www.inspiredtaste.net/46269/carrot-cake-cupcakes/.
So why wait? Gather your ingredients and embark on this culinary adventure to create a batch of scrumptious Carrot Cake Cupcakes that will leave everyone craving for more. Happy baking!