The majority of women who have had their hymens disrupted after intercourse are looking for a solution. Most of them do it to prepare for marriage or for sexual fulfillment (to enjoy sex with a tight vagina), and a procedure known as "Hymenoplasty" may help them do so.
What is Hymenoplasty? 
Restoration of the bottom half of the vagina's skin membrane (hymen), known as hymenoplasty, is a surgical operation that is also known as hymen restoration surgery. First sexual penetration commonly tears the hymen, although it can also be broken by a physical mishap and even the use of First sexual penetration commonly tears the hymen, although it can also be broken by a physical mishap and even the use of tampons. 
Reasons why Hymenoplasty is done?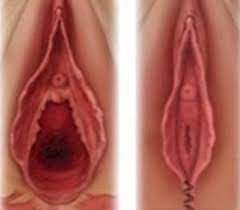 Photo credit: Dr. Rahul 
Hymenoplasty is often requested by patients who want to restore the hymen's original state. This might be for many reasons, either getting back a tight vagina or for cultural/religious and societal reasons. We all know hymen is a symbol of innocence and purity in various civilizations. Hymens may also rip for reasons other than sexual, such as from the use of tampons or from participating in certain sports that might disrupt the hymen. 
How long does hymenoplasty Surgery last?
Depending on the extent of the damage, the procedure might take anywhere from an hour to two hours. Despite the fact that this is a clinical operation that does not need a hospital stay and patients may return to their daily activities the following day, it is recommended that they avoid vigorous exercise and heavy lifting.
Using dissolvable stitches, the damaged edges of the hymen are stitched back together. In most cases, just local anesthesia is used, and the treatment may be completed in one day.
Is Hymenoplasty safe?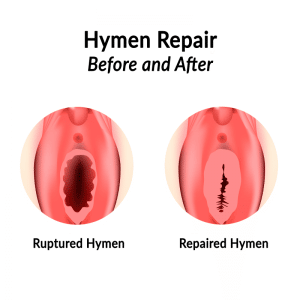 Photo credit: Cherokeewomenshealth
Hymenoplasty is generally seen to be safe, with just a small number of risks. However, the surgical process has its own set of difficulties and hazards but It is possible to have one's hymen surgically repaired via the surgery known as hymenoplasty.
What are the risk/side effects involved in Hymenoplasty?
1. Bruising and Infection:
Each and every procedure of surgery comes with the minor danger of bruise and even infection
2. Excruciating pain and swelling after a surgical procedure
Some patients may need a longer recovery time than others after undergoing the surgery, despite it being quite simple in terms of medical knowledge. This is more common in women since the hymen is naturally positioned in such a way that the surrounding vaginal tissue compresses it more. 
However, individuals who have hymenoplasty are at risk for bruising and severe swelling are advised to expect some pain while walking and sitting. It's more common in women since their inner skin rubs against their vaginal skin when walking.
It's just a matter of time until a simple over-the-counter drug is needed to deal with these little issues. As a general rule, most surgeons believe that more rest and letting natural healing run its course is the best way to deal with these issues.
3. Dyspignation
Dyspignation of the treated hymen is possible. Deciphering the nature of the discoloration is more difficult than just recognizing it since it might either be transitory and disappear on its own or become permanent pigmentation.
4. Loss of feeling
Some women may have vaginal numbness instead of surgical discomfort. Because anesthetics were used, the numbness is likely to last for at least a few hours following the procedure. Nerve damage that happened during surgery is the worst-case scenario for numbness. Arousal and enjoyment are impaired by hypersensitivity or loss of feeling.
5. Bleeding: Because the labia have so many blood veins,
6. Stiff Scars: Makes entry of the vagina unpleasant.
7. The presence of long-term discomfort in the form of scars
8. Premature healing of an incision might cause it to break down.
9. Asymmetry: The form of the Labia is asymmetrical.
10. When the final look is unacceptable, it is considered unacceptable cosmesis.
All of this, however, affects rarely. As a result, it's critical that you follow the doctor's post-operative instructions exactly in order to avoid any potential side effects.
Other complications that require the doctor's attention:
There are very few issues to deal with. But if the patient has any of the following symptoms, they should call their doctor right once.
Extreme itching
Drowsiness
Inflammatory disease.
After three days, the pain had progressed beyond a little discomfort.
Discharge that is unusual or unpleasant in odor
Excessive blood loss
Does Hymenoplasty tighten the vagina?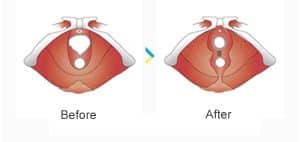 Photo credit: Manhattan
The procedure aims to return the hymen to its virginal condition in accordance with the patient's desires and expectations. There is an entire and tight sound to the vagina thanks.
As part of vaginal rejuvenation and hymenoplasty, the muscles of the genital area are re-tightened. Hymenoplasty is seen as a means by some females of enhancing their sexual enjoyment.
Hymenoplasty is also considered a wonderful approach to increase sexual pleasure for certain women since the vagina becomes tight.
What is the cost of hymenoplasty?
Hymenoplasty might cost anything from $5,000 to $6,000 depending on the extent of the work required.
Is Hymenoplasty surgery painful? 
As the procedure is conducted under local anesthetic, there is no discomfort involved at all. If you're afraid about the operation, you may take a sedative to put you to sleep instead.
After the anesthetic wears off, you may have some pain for the first several days after the procedure. Because of this, you will be offered over-the-counter painkillers.
Recovering from Hymenoplasty
Hymen repair surgery is a simple procedure that only takes about a few hours. You may return home the next day or shortly after the procedure if allowed by the doctor. Some spotting may occur in the first 48 to 72 hours. Full recovery takes between four and six weeks. You must preserve your hymen after surgery since healing might take some time. The following are some of the hymenoplasty recovery protocols:
For at least six weeks after surgery, refrain from engaging in any kind of sexual activity to prevent worsening any post-operative discomfort.
Underwear that is too tight should be avoided. Keep away from thongs for at least two weeks after surgery.
For at least five to six weeks, use sanitary napkins instead of tampons.