Exercises to Reduce Breast Size: Are you looking for ways to reduce your breast size naturally and without surgery? Well, you've stumbled upon the right guide. For many women, having large breasts can be a source of discomfort and self-consciousness. It can lead to physical issues like back pain, shoulder strain, and difficulty finding well-fitting clothes. While there are surgical options available, they can be expensive and come with some potential risks. 
But the good news is that there are exercises that are not only effective but also safe and easy to do at home that may help reduce your breast size naturally and give you a more proportional figure in just one week – Yes, you read that right – we know it sounds too good to be true, but trust us; in just seven days, you can start seeing a difference in your breast size, and it's all through simple exercises you can do from the comfort of your own home.
In the next few minutes, we will explore how exercise can help in reducing breast size naturally. We'll also share seven effective exercises that specifically target the chest muscles and aid in firming up your bust area. Also, we'll discuss how to perform each of these exercises, provide essential tips for maximizing your workout routine results and suggest some lifestyle adjustments for sustainable breast size reduction.
Why Do Breasts Grow Large?
There are several factors that can contribute to the increase in breast size, and understanding them can help you better navigate your own body. 
Here are some notable causes of large breast:
Hormonal Changes

. During puberty, the levels of oestrogen in a girl's body increase, leading to breast development. This process continues until around age 18 or 19 when most girls reach their full breast size.

Weight Gain or Obese

: When you gain weight, your body stores fat all over, including in your breasts. This can result in larger bust sizes.

Pregnancy and Breastfeeding

: During pregnancy, hormonal changes prepare the breasts for milk production, causing them to enlarge. Breastfeeding further stimulates this growth as the mammary glands produce milk.

Genetics

: You may have inherited genes from your parents that predispose you to having larger breasts.
Problems Associated with Large Breasts Size
Even though large breasts are often a centre of attraction, they can sometimes bring about a variety of challenges for women. 
Physical Discomfort

: Physical discomfort is a common issue that comes with carrying extra weight around the chest area. The added strain on the back and shoulders can lead to spinal cord problems, chronic pain and even postural problems.

Finding Well-Fitting Clothes

: Women with large breasts often face difficulties finding bras that provide proper support without sacrificing comfort or style. It's not uncommon for them to experience discomfort from ill-fitting clothes, which can affect their overall confidence and self-esteem.

Unwanted Attention and Scrutiny

: Large breasts may also attract unwanted attention and scrutiny, making some women feel self-conscious or even objectified. This constant focus on their appearance may even impact their mental well-being and body image perception.

Inability to Engage in Physical Activities

: Engaging in certain physical activities like running or participating in sports can be challenging for those with larger busts due to lack of support and increased movement during exercise.
It's important to remember that every woman's experience is unique, but if you're facing any one of these problems associated with large breast size, it's understandable why you might want to explore natural ways of reducing your breast size through exercise.
Understanding How Exercise Can Help Reduce Breast Size
Exercise is not only beneficial for overall health and fitness, but it can also help reduce breast size naturally. While exercise alone may not completely eliminate excess breast tissue, it can certainly contribute to the reduction of fat deposits in the chest area.
Read Also: Push vs Pull Muscles: Understanding the Key Differences
Exercises that target the chest muscles, such as push-ups and chest presses, can help strengthen and tone the underlying muscles. This helps improve posture and lifts the breasts slightly, giving them a firmer appearance while reducing their size.
In addition to targeting the chest muscles directly, cardiovascular exercises like running or cycling promote weight loss throughout the body, including in the breasts. By engaging in regular cardio workouts, you will burn calories and shed excess fat from all areas of your body.
It's important to note that breast reduction is not possible through exercise alone. To effectively reduce breast size with exercise, you must combine targeted chest exercises with overall weight loss strategies like maintaining a healthy diet and lifestyle routine. 
With dedication and consistency in your workout routine combined with lifestyle adjustments discussed later in this article , you have a better chance of achieving natural breast size reduction over time. Alright, so let's dive into some effective exercises that specifically target the chest areas!
7 Effective Exercises to Reduce Breast Size in a Period of 7 Days
Exercise 1
:
Push-Ups  
Push-ups are one of the most effective exercises to reduce breast size naturally. Not only do they target your chest muscles, but they also engage your arms, shoulders, and core. To perform a push-up correctly, start by getting into a high plank position with your hands shoulder-width apart and your body in a straight line from head to toe.
Lower yourself down by bending your elbows until your chest is just above the ground and then push back up. Keep your core engaged throughout the movement and exhale as you push back up to the starting position. If regular push-ups are too challenging at first, you can modify them by keeping your knees on the ground or using an elevated surface like a bench or wall.
Exercise 2: Chest Presses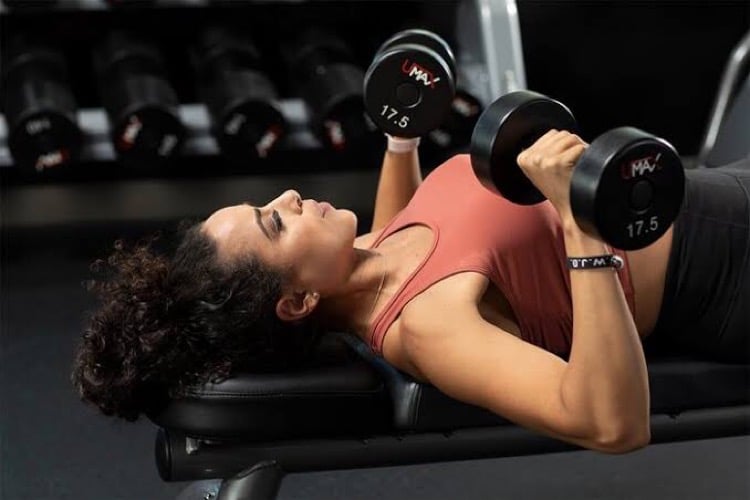 If you have access to dumbbells or resistance bands, chest presses are an excellent exercise for reducing breast size. Start by lying flat on your back on a workout bench or mat. Hold the dumbbells in each hand, with your arms bent at a 90-degree angle and palms facing forward. Slowly lift the weights straight up towards the ceiling, making sure to keep your elbows slightly bent.
Exhale as you push the weights up, then inhale as you lower them back down to starting position. Repeat this movement for 10-12 reps, aiming for three sets total.
Remember to engage your core throughout the exercise and maintain proper form. It's important not to rush through the movements; instead, focus on controlled and deliberate motions.
Exercise 3: Cardio Exercises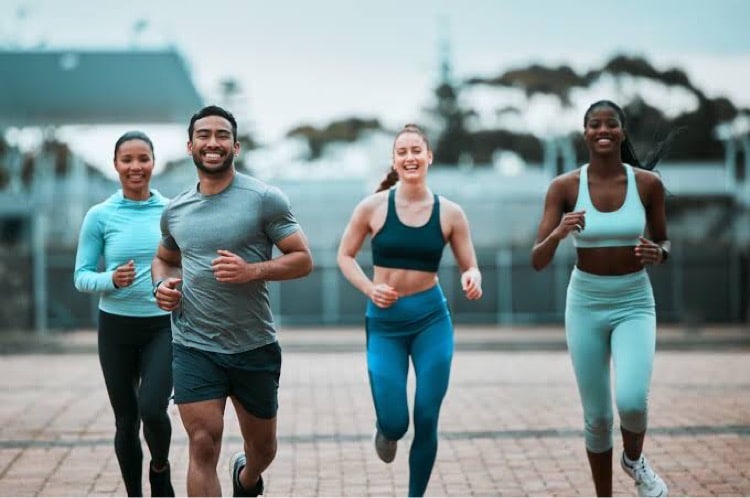 Cardio exercises are an excellent way to reduce breast size naturally. Not only do they help burn overall body fat, but they also target the chest muscles, leading to a reduction in breast size. Here are three effective cardio exercises that you can incorporate into your routine:
Running or Jogging

: Lace up your sneakers and hit the field for a run or jog. This high-intensity exercise engages multiple muscle groups, including those in your chest area, helping to tone and reduce breast size over time.

Jumping Rope

: Grab a jump rope and get ready for an intense workout that will not only improve your cardiovascular health but also aid in reducing breast size. Jumping rope targets the chest muscles while burning calories at a rapid pace.

Cycling

: Whether it's on a stationary bike or outdoors, cycling is a fantastic cardio exercise that targets the lower body while engaging the upper body as well. It helps burn excess fat throughout your entire body, including your breasts.
Exercise 4: Dumbbell Flys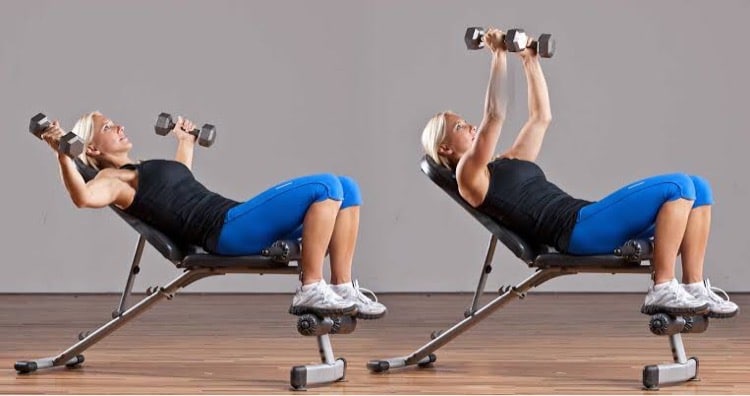 This exercise primarily targets the muscles in your chest, helping to strengthen and tighten them.
To perform dumbbell flys, start by lying down on a flat bench or mat with a dumbbell in each hand. Extend your arms straight above your chest, palms facing inward. Slowly lower your arms out to the sides in a wide arc motion until you feel a stretch in your chest muscles before bringing them back up again. Make sure to keep control of the weights throughout the movement.
The key is not to go too heavy with the dumbbells as this can put unnecessary strain on your shoulders and neck. Instead, focus on using lighter weights that allow you to maintain proper form and complete the exercise without any pain or discomfort.
Exercise 5: Wall Push-Ups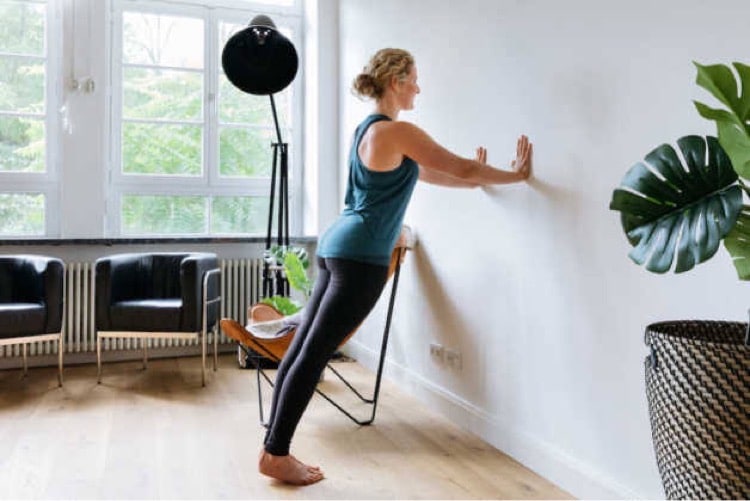 Wall push-ups are an excellent alternative if regular push-ups feel too challenging initially or if you struggle with wrist pain during traditional push-up movements.
To perform wall push-ups, start by standing facing a wall about arm's length away with your feet shoulder-width apart. Place your hands on the wall at shoulder height and slightly wider than shoulder-width apart. Your body should be leaning forward at about a 45-degree angle.
Next, lower your chest towards the wall by bending your elbows until they are at a 90-degree angle. Keep your core engaged and maintain a straight line from head to toe throughout the movement.
Push yourself back up to the starting position by straightening your arms without locking out your elbows. Repeat this motion for several sets of 10-15 repetitions.
Remember to breathe throughout each repetition and focus on using controlled movements rather than rushing through them. As you become more comfortable with this exercise, you can increase the difficulty by moving further away from the wall or even adding resistance bands for extra challenge.
Exercise 6: Plank Jacks
Plank Jacks are a fantastic exercise to include in your routine if you're looking to reduce breast size naturally. This exercise targets multiple muscle groups, including the chest, shoulders, and core.
To perform Plank Jacks, start by getting into a high plank position with your hands directly under your shoulders and your body in a straight line. Engage your core and glutes as you jump both feet out wide like a jumping jack motion while keeping your upper body stable.
Make sure to maintain proper form throughout the movement - avoid letting your hips sag or raising them too high. Aim for controlled movements and focus on engaging the muscles in your chest.
Plank Jacks can be challenging at first, but with practice, you'll see improvements in strength and endurance. Start with 10-12 repetitions per set and gradually increase as you get more comfortable.
Remember to listen to your body! If you experience any discomfort or pain during this exercise, modify it by performing smaller jumps or stepping one foot out at a time instead of jumping.
Exercise 7: Shoulder Shrugs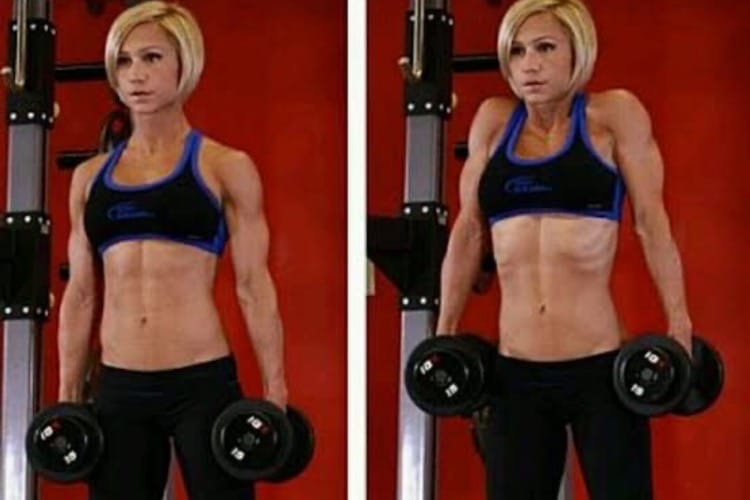 Shoulder shrugs are a great exercise to help reduce breast size naturally. They target the muscles in your shoulders and upper back, helping to tone and strengthen them. This can ultimately lead to a reduction in the appearance of your breasts.
To perform shoulder shrugs, begin by standing with your feet hip-width apart and holding dumbbells in each hand. Keep your arms straight down at your sides, palms facing inward. Lift your shoulders up towards your ears as high as possible while keeping your neck relaxed.
Hold this position for a few seconds before slowly lowering your shoulders back down to the starting position. Repeat this movement for 10-12 reps, focusing on maintaining proper form throughout.
Remember to start with lighter weights if you're new to shoulder shrugs and gradually increase the weight as you get stronger. It's important not to strain or overload yourself during this exercise.
Essential Tips for Getting the Best Results from Your Workout Routine 
Start with a Warm-Up

: Before you start your exercise routine, it's crucial to warm up your body. Spend at least 5-10 minutes doing dynamic stretches or light cardio exercises like jogging in place or jumping jacks. This will help increase blood flow and loosen your muscles, ligaments, and joints, preventing any potential injuries during your workout.

Gradually Increase Intensity

: While it's important to push yourself during your workouts, it's equally crucial not to overdo it. Gradually increase the intensity and duration of your exercises to avoid any strain or injuries. Listen to your body and give yourself enough rest in between sessions.

Wear The Right Attire

: Choosing appropriate workout attire can make a significant difference in your performance and comfort level. Opt for well-fitting sports bras that provide adequate support to minimize breast movement during exercise. Additionally, wear comfortable clothing made from breathable fabrics that allow freedom of movement.

Stay Hydrated

: Hydration is key when engaging in physical activity, as it helps regulate body temperature and supports overall performance. Make sure you drink plenty of water before, during, and after your workouts to stay adequately hydrated.

Get Adequate Rest

: Adequate sleep is vital for muscle recovery and overall well-being. Aim for seven to nine hours of quality sleep each night to optimize the results of your workout routine.
Lifestyle Adjustments for Sustainable Breast Size Reduction
Regular exercise coupled with maintaining a healthy lifestyle is important when it comes to reducing breast size naturally. By making some simple adjustments to your daily routine, you can support your exercise efforts and work towards achieving long-lasting results.
Read Also: How Many Inches Can You Lose in a Month
Here are some tips to help you on your journey towards sustainable breast size reduction:
Maintain a Balanced Diet

: Exercise alone may not be sufficient for reducing breast size; a healthy diet plays an essential role too! Incorporate nutrient-rich foods like fruits, vegetables, lean proteins, and whole grains into your meals while limiting processed foods high in sugar and unhealthy fats, as they can contribute to weight gain.

Refrain From a Sedentary Lifestyle

: Sitting for prolonged periods not only affects your posture but also contributes to weight gain, which can increase breast size. Incorporating regular physical activity into your day, such as walking or cycling, can help burn calories and reduce excess fat around the breasts.

Wear Well-Fitted Clothes

: Wearing ill-fitting bras or tight clothing that compresses the breasts may lead to tissue inflammation and discomfort. Opt for supportive bras that provide proper coverage and maintain good blood circulation in the chest area.

Avoid Drinking and Smoking

: Excessive alcohol consumption and smoking have been linked to hormonal imbalances, weight gain, and increased breast size. Limiting alcohol intake or quitting altogether while avoiding cigarettes will not only benefit your overall health but also aid in natural breast reduction.

Adequate Sleep

: Ensure you are getting enough sleep every night as it directly impacts hormone regulation. Aim for 7-9 hours of quality sleep each night to promote overall wellness and support natural breast reduction.

Manage Stress Levels

: Chronic stress may lead to hormonal imbalances which could impact breast size retention. Practicing relaxation techniques like meditation or yoga can be beneficial for managing stress levels effectively.
By adopting these lifestyle adjustments alongside regular exercise routines specifically targeting the chest area, you'll be on track towards sustainable breast size reduction over time!
Takeaway
In the quest for reducing breast size naturally, incorporating exercises into your routine can be incredibly beneficial. These targeted exercises outlined above can help tone and strengthen the muscles around your breasts, leading to a more proportionate appearance. While there is no guarantee that exercise alone will drastically reduce breast size, it can certainly make a noticeable difference over time.
Remember, consistency is key when it comes to seeing results. By committing to a regular exercise regimen and making healthy lifestyle choices, you can work towards achieving your desired breast size in no time.