Unless you are a cook, you might not know what Ginger does for a meal. In fact, you probably don't even know where you can buy some at the grocery store. Luckily, Femmed Pregnancy + Ginger has Ginger right in its formula, so when you need it the most, it's there for you. You don't have to run to the store and wander around looking for it. (By the way, it's in the produce section where I shop, usually in the refrigerated part).
Ginger can truly be your best friend during those first critical months of your pregnancy. You need to keep food down, and the only way to do this is by not throwing up or getting nauseous. Ginger (and even some Vitamin B6) can make you feel much better, so you can eat healthy food and get your pregnancy vitamin down.
Femmed Pregnancy + Ginger Ingredients
Vitamin A (3000 IU), Vitamin C (100 mg), Vitamin D (800 IU), Vitamin E (110 IU), Vitamin B1/Thiamine (10 mg), Vitamin B2/Riboflavin (10 mg), Vitamin B3/Niacinamide (10 mg), Vitamin B5/Pantothenic Acid (10 mg), Vitamin B6 (10 mg), Folic Acid (1 mg), Vitamin B12 (15 mcg), Biotin (45 mcg), Calcium (200 mg), Magnesium (100 mg), Iron (30 mg), Zinc (7.5 mg), Manganese (3 mg), Copper (1.5 mg), Iodine (100 mcg), Selenium (15 mcg), Ginger (1000 mg).
Essential Ingredients To Look For In A Prenatal Vitamin
At the majority of people's fingertips is the world wide web. If you have it at your disposal, use it. Research all about pregnancy vitamins. Don't just jump at the first pregnancy vitamin that you see. There are a few ingredients that need to be there or your baby could end up with an unwanted complication:
DHA – 175 mg
Folic Acid – 600 mcg
Iron – 27 mg
Calcium – 1,000 mg
CoQ10 – 200 mg
Probiotics – 5 or more
Choline – 450 mg
Inositol – 25 mg
These are just the bare minimum. Of course you need more vitamins and minerals, but this is just to help you get started.
Essential Ingredients Found In Femmed Pregnancy + Ginger
Both the Folic Acid and Iron content in Femmed Pregnancy + Ginger is above and beyond the required amount, which is a fabulous thing. You can't count on the Calcium in Femmed Pregnancy + Ginger, though. There is only 200 mg, and pregnant women need at least 1,000 mg. It is great that Femmed Pregnancy + Ginger has plenty of Vitamin B6. Combined with the Ginger in the formula, the Vitamin B6 can really help your morning sickness subside. You are probably sick and tired (no pun intended) of having a weak stomach. With tons of Ginger in Femmed Pregnancy + Ginger, you can finally get some relief.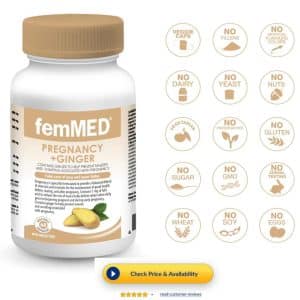 Essential Ingredients Not Found In Femmed Pregnancy + Ginger
The greatest failure of Femmed Pregnancy + Ginger is the lack of DHA and high-quality ingredients. You can't expect your growing baby to just be healthy because you want it to be. You need to give it the right kinds of nutrients, so it has the opportunity to overcome obstacles so prevalent in pregnancies.
Overall Rating of Femmed Pregnancy + Ginger
Even while Femmed Pregnancy + Ginger has so many great ingredients including Ginger, Folic Acid, and Iron, it is lacking in quite a few essential areas. You need to get as many nutrients to your baby as possible, so look for a more comprehensive prenatal vitamin, such as Prenate DHA.