In a world where we're becoming increasingly conscious of what we put into our bodies, the thought of making your own soya bean powder from scratch isn't such a bad idea after all. It's more of a way to take control of your diet, making sure that you only consume the purest and high-quality ingredients. 
But why should you be interested in learning how to make soya bean powder? Well, for starters, it is an affordable substitute to dairy products, which makes it suitable for those who are lactose intolerant, vegetarians or for those who develop allergies from the protein in milk. 
It also allows you to have complete control over the quality of the ingredients used and ensures that no additives or preservatives are included in the final product. This means that you can enjoy all the benefits of soya without any unwanted chemicals or artificial flavors.
In this guide, we'll walk you through the entire process of making soya beans powder, from selecting the best soya beans to grinding them into a fine, silky powder. By the end of this article, you'll not only know how to make soya beans powder but also be a master at it.
But first, let's start at the beginning – with the basics. What exactly is soya beans, and why should you care about it? Stick around as we'll answer these questions and more in this article. So, continue reading!
What are Soya Beans?
Soya beans, also known as soybeans, are a type of legume that originated in East Asia. These small oval-shaped beans have been cultivated for centuries and are now grown worldwide due to their numerous health benefits and versatility in cooking.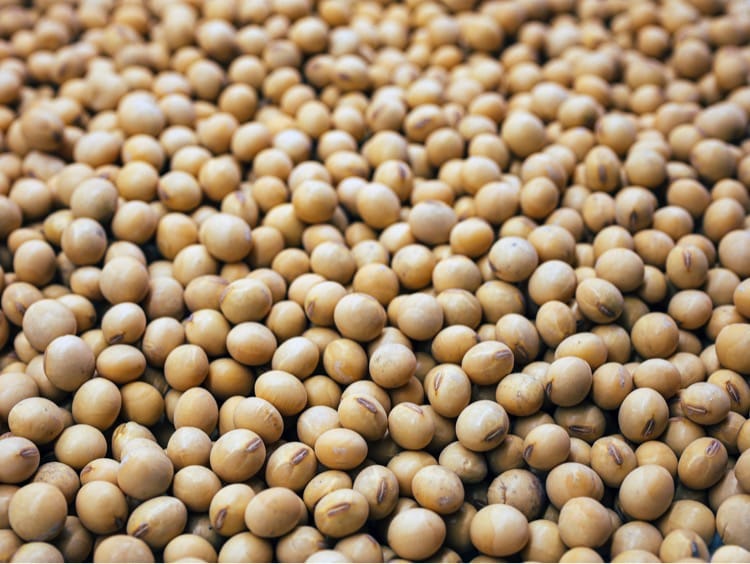 Soya beans are an excellent source of plant-based protein. In fact, they contain all nine essential amino acids that our bodies need for optimal growth and development. This makes them a great choice for vegetarians and vegans looking to meet their protein requirements.
Soya beans are also rich in dietary fibre, which aids digestion and helps regulate blood sugar levels. They are packed with vitamins such as vitamin K, folate, and vitamin C. Plus, they provide minerals like iron, calcium, magnesium, phosphorus and potassium.
Read Also: Irresistible Oatmeal Fig Cookies | A Scrumptious and Nutritious Treat for Oatmeal & Fig Lovers (with Guide Pics, and Videos)
Soya beans can be cooked whole or processed into tofu, tempeh, soy sauce, soybean oil and various dairy alternatives like milk or yogurt. They can even be ground into flour or powder form for use in baking or making nutritious smoothies.
Health Benefits of Soya Beans Powder?
Rich source of protein

: Soya beans powder is an excellent plant-based source of protein, making it an ideal choice for vegetarians and malnourished children. Protein is essential for cell growth, repair, and maintenance of tissues in the body.

Promotes heart health

: Soya beans powder contains unsaturated fats, such as omega-3 fatty acids and phytosterols that help reduce cholesterol levels and lower the risk of cardiovascular diseases like heart attacks and strokes.

Supports bone health

: The presence of calcium, magnesium and potassium in soya beans powder makes it beneficial for maintaining strong bones and preventing conditions like osteoporosis.

Regulates blood sugar levels

: The low glycemic index of soya beans powder helps regulate blood sugar levels by slowing down the absorption of glucose into the bloodstream, making it suitable for people with diabetes. 

Boosts digestion

: Soya beans powder is high in dietary fibre which aids digestion by promoting regular bowel movements and preventing constipation.
Steps on How to Make Soya Beans Powder 
Making soya beans powder at home is a simple process that can save you money and provide you with a convenient source of protein. Here are the steps you should follow:
Step 1: Select High-Quality Soya Beans
Start by selecting good quality, organic soya beans from a local grocery store. Ensure that the beans are clean, dry, and free from any signs of mould or pests. You'll be needing about 1 – 2 cups of soya beans if you want to make a small batch. 
Step 2: Rinse and soak
Thoroughly rinse the soya beans under running water to remove any dirt or dust particles. Then, soak the beans in enough water overnight or for a minimum of at least 8 hours. This helps soften them and makes it easier to grind into a fine powder.
Step 3: Drain and dry
After soaking, drain the water from the soaked soya beans using a sieve or strainer. Spread them evenly on a clean cloth or tray lined with absorbent paper towels to remove excess moisture and let them dry under the sun for at least a day or two. It's important that they are fully dry before proceeding to the next step.
Step 4: Grind into a fine powder
Once dried, transfer the drained soya beans into a powerful blender or grinder. Grind them in batches until you achieve a smooth and fine powder consistency.
Step 5: Sieve if needed
If desired, you can pass the ground mixture through a sieve to remove any coarse particles that may have been missed during blending and obtain an even finer texture.
Now that you know how easy it is to make soya bean powder at home, you can enjoy its numerous health benefits whenever you need it!
How To Maintain Shelf-life of Soya Beans Powder
Choose the right container

: Use an airtight container made of glass or plastic with a tight-fitting lid. This will help prevent moisture, air, and light from degrading the quality of the powder.

Keep it in a cool, dry place

: Store your soya beans powder in a cool and dry area away from direct sunlight or heat sources like stoves or ovens. Excessive heat can cause the powder to spoil quickly.

Avoid exposure to moisture

: Moisture can lead to clumping and mold growth in your soya beans powder. Make sure the container is completely dry before transferring the powder into it, and avoid storing it near areas with high humidity, such as the kitchen sink.

Label and date your container

: To keep track of its freshness, label your container with the date of preparation using a permanent marker. This will help you use up older batches first.

Check for signs of spoilage

: Before using your stored soya beans powder, give it a quick visual inspection for any signs of mould, discoloration, or off smells. If anything seems off, discard the batch immediately.
Read Also: Indulge in Delight | How to Make the Ultimate Crazy Chocolate Cake (With Secret Recipe And Epic Tricks)
By following these simple storage guidelines, you can extend the shelf life of your homemade soya beans powder and continue enjoying its nutritional benefits for longer periods!
What Are Soya Beans Powder Used For?
Soya beans powder is a versatile ingredient that can be used in various ways to enhance the flavour and nutritional value of your dishes. Here are some popular uses for soya beans powder:
Baking

: Soya beans powder can be added to baked goods like bread, muffins, and cookies to increase their protein content without compromising on taste. It also helps in improving the texture and moisture retention of the baked goods.

Smoothies

: Adding a spoonful of soya beans powder to your smoothies can give them an extra boost of protein, making them more filling and nutritious. It blends well with fruits, vegetables, and other ingredients commonly used in smoothies.

Soups and stews

: Soya beans powder acts as a thickening agent when added to soups or stews. It adds a creamy texture while providing essential nutrients such as proteins, vitamins, and minerals.

Sauces and dressings

: Incorporating soya beans powder into sauces or dressings can add depth of flavor and richness without using excessive amounts of oil or cream.

Plant-based milk alternative

: Soya beans powder can be used to make homemade plant-based milk by simply blending it with water until smooth. This dairy-free option is suitable for those who are lactose intolerant or follow a vegan lifestyle.

Cereal toppings

: Sprinkling soya bean's powder onto breakfast cereals not only enhances their nutty flavour but also increases the overall nutritional value by adding protein, fibre, vitamins, minerals like iron, calcium, magnesium among others .
FAQs About Soya Beans Powder
Yes, you can use any variety of soya beans to make the powder. However, it is recommended to choose high-quality, organic soya beans for the best results.
The process of making soya beans powder can take some time as it involves soaking, dehydrating, and grinding the beans. On average, it takes around 24-48 hours from start to finish.
Homemade soya beans powder is often considered healthier because you have control over the quality and processing methods used. Additionally, store-bought options may contain additives or preservatives that homemade versions do not.
When stored properly in an airtight container in a cool and dry place away from direct sunlight or moisture, homemade soya beans powder can last up to six months without losing its nutritional value significantly.
Conclusion
In this article, we have explored the process of making soya beans powder from scratch. We learned what soya beans are and discovered the simple steps involved in creating this versatile and cost-effective ingredient used in a variety of ways. By following the steps highlighted in this article, you can easily transform raw soya beans into a fine powder that can be used in various culinary creations.