There's nothing quite as satisfying as biting into a freshly baked huge bakery style peanut butter cookies. With its perfect blend of rich peanut butter flavor, a soft and chewy interior, and a slightly crispy exterior, these delectable treats are simply irresistible.
In this article, we'll dive into the art of creating these oversized delights in the comfort of your home, so you can enjoy the goodness of huge  bakery style peanut butter cookies anytime you crave a delightful treat.
Firstly, What Are Huge Bakery Style Peanut Butter Cookies?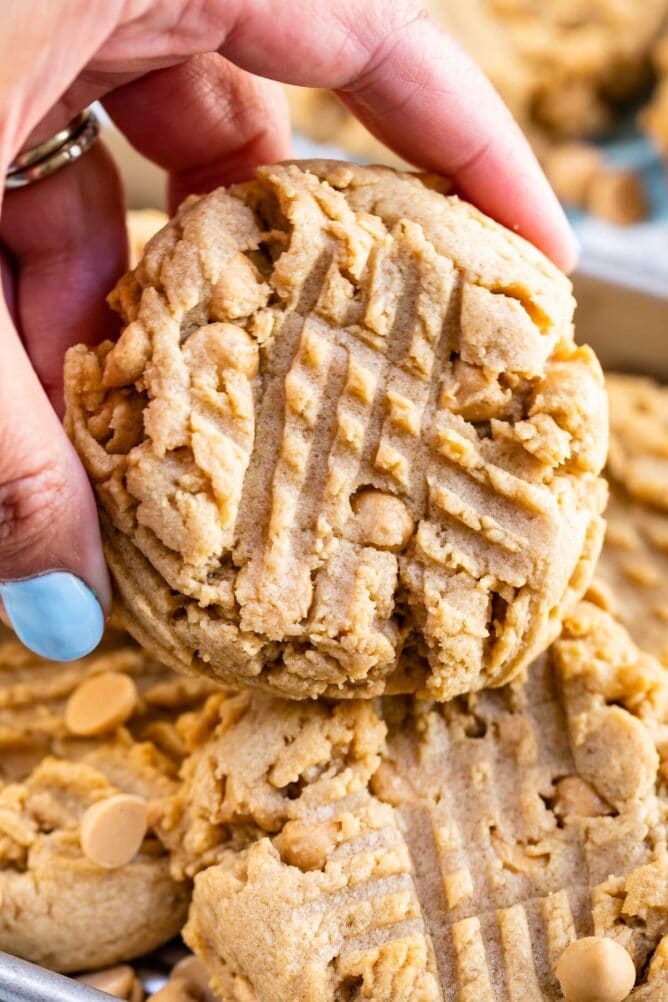 Huge bakery style peanut butter cookies are large, soft, and chewy cookies that are typically made with a generous amount of peanut butter1https://www.simplyrecipes.com/recipes/peanut_butter_cookies/. They often have a slightly crispy exterior and a soft, tender interior.
These cookies are beloved for their rich peanut butter flavor and indulgent texture, making them a popular treat in bakeries and homes alike2https://preppykitchen.com/peanut-butter-cookies-recipe/.
Nutritional Information Per serving
Calories: 712kcal 

Carbohydrates: 73g

Protein: 18g 

Fat: 42g 

Cholesterol: 68mg 

Sodium: 405mg 

Potassium: 439mg 

Fiber: 5g 

Sugar: 38g 

Vitamin A: 516IU
Calcium: 73mg 
Iron: 3mg
The Recipe for Huge Bakery Style Peanut Butter Cookies
Prep time:

15 minutes

Cook time:

18 minutes

Additional time:

  2 Hrs

Total time:

2 hours 33 minutes

Yield:

12 large cookies
Equipment and Kitchen Utensil Use in the Recipe:
Glass Mixing Bowl

Whisk 

Electric Mixer (Handheld or Stand) 

Baking Sheets 

Silicone Baking Mats or Parchment Paper 

Cooling Rack
Ingredients
 

1 cup of butter, softened

 1½ cups of peanut butter (do not use natural PB)

 1½ cups of light brown sugar

 ½ cup of granulated sugar

 2 eggs at room temperature

 1 teaspoon of vanilla bean paste (or extract)

 1 tablespoon of milk

 2 teaspoons of baking soda

 1 teaspoon of baking powder

 1 tablespoon of cornstarch

 3½ cups of all-purpose flour

 Extra granulated sugar for rolling
Unique Recipe for Making Huge Bakery styles Peanut Butter Cookies 
Cream together the butter, peanut butter, brown sugar, and granulated sugar in a large mixer.

Slowly beat in the eggs, vanilla bean paste, and milk until combined. Scrape down the side of the bowl before adding the dry ingredients.

Sift together the flour, baking soda, baking powder, and cornstarch. Very slowly with the mixer on the lowest speed add in about a half cup of the dry ingredients at a time, continuing to mix just until they are fully incorporated.

Cover the bowl in plastic wrap and chill for at least 2 hours.

Preheat the oven to 350 degrees F and line 3 baking sheets with parchment paper or sil-pats.

Using a large cookie scoop, divide the dough into about 12 even-size extra-large balls of dough (about 1/4 cup each). Roll them into smooth round balls and then roll them in a bowl of granulated sugar to coat.

Place the cookies at least 2 inches apart on the baking sheets and lightly press down with a fork twice, making a crisscross pattern on the top. These are thick cookies so you don't need to press down too hard.

Bake at 350 degrees for about 16-18 minutes, until the edges are lightly golden. Remove the cookies from the oven and let them finish setting on the tray for about 5 minutes before transferring to a wire rack to finish cooling. Enjoy
Recipe Notes
Make Ahead & Freezing Instructions:
You can make the cookie dough and chill it in the refrigerator for up to 3 days.

Allow to come to room temperature, then continue with step 5.

Baked cookies freeze well for up to 3 months.

Unbaked cookie dough balls freeze well for up to 3 months.

Bake frozen cookie dough balls for an extra minute, no need to thaw. 
Indulge in Irresistible Delights: Savoring the Irresistible Charm of Huge Bakery Style Peanut Butter Cookies
With this foolproof guide, you can easily master the art of baking bakery-style peanut butter cookies. Impress your family and friends with these irresistible treats, perfect for any occasion or as a well-deserved indulgence for yourself3https://www.allrecipes.com/recipe/10275/classic-peanut-butter-cookies/.
Savor the nutty, sweet goodness of these oversized cookies, and create lasting memories with every delectable bite. Happy baking!