One A Day Prenatal Vitamins With Dha Ingredients Overview
One A Day Prenata vitamins with DHA does contain important ingredients needed during pregnancy. However, some of these ingredients either aren't in quality forms or don't contain high enough dosage amounts.
Take calcium for example, One A Day Plus DHA Prenatal only contains 23% of your recommended daily value. I would like to see it contain more than 50% of the recommended daily value. Calcium is not only critical for your developing baby, but its important to keep your bones healthy and strong. Often times if there isn't enough calcium coming from your diet or vitamins, your body will leach the calcium from your bones for the baby. This is why so many women often experience a lot of tooth decay during pregnancy.
One a Day Prenatal vitamins with DHA does contain a stool softener, I would rather see probiotics to help with constipation caused by pregnancy. Your body can become dependant on stool softeners. Probiotics not only naturally help constipation, they also boost your immune system.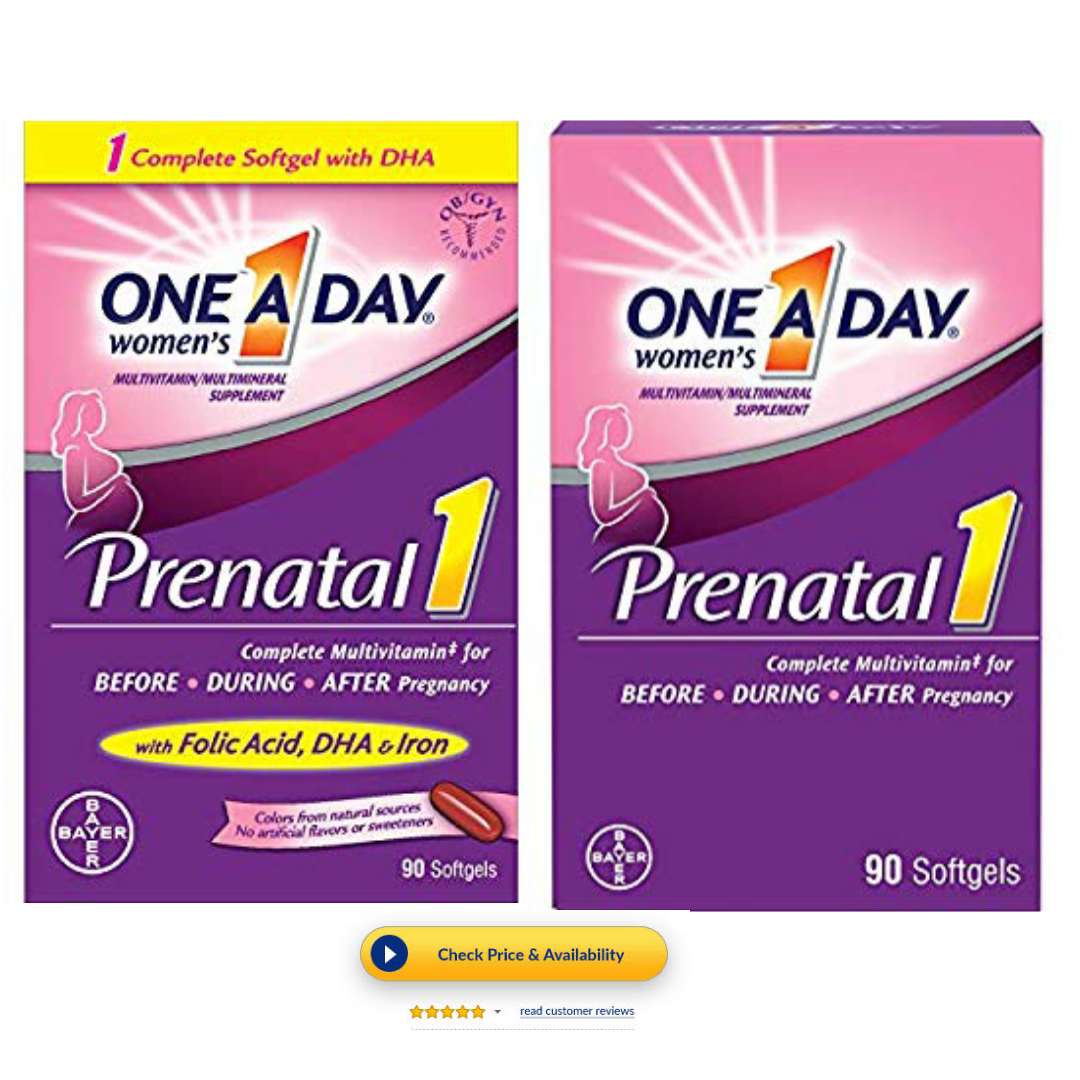 Ingredients: 
Calcium Carbonate, Omega-3 Fish Oil, Gelatin, Glycerin, Magnesium Oxide, Yellow Beeswax, Ascorbic Acid; Less than 2% of: Beta-Carotene, Biotin, Carbonyl on, Cupric Oxide, d-Alpha Tocopherol, Calcium Pantothenate, FD&C Blue #1, FD&C Red #40, Folic Acid, Niacinamide, Potassium Iodide, Purified Water, Pyridoxineydrochloride, Riboflavin, Soy Lecithin, Thiamine Mononitrate, Titanium Dioxide (color), Vitamin A Palmitate, Vitamin B12, Vitamin D3 (Cholecalciferol), Zinc Oxiimportant t.s Fish (anchovy, jack mackerel, sardine, tuna) and Soy.
One A Day Prenatal Vitamins Concerns
I don't like that this prenatal vitamin comes as a tablet. Tablets are hard to swallow, and aren't absorbed nearly as well as capsules. Another concern I have is, One a Day Plus DHA contains FD&C Red No. 40 Lake, this synthetic dye is a ridiculous ingredient for a prenatal vitamin to contain. Honestly, who cares if your vitamin is pink? Exposing your baby daily to an unnecessary, unnatural dye is not a good idea. Also, there are some other questionable ingredients, like talc. Why would talc be in a prenatal vitamin?
The good news is that the one a day prenatal vitamins now come in soft gels, gummies, and liquid as well. Also, they have improved and removed talc from there ingredients
How Much is One A Day Prenatal Vitamins With Dha?
This prenatal vitamin is around $13.89 for a month supply, and can be found over the counter at most retail stores. This is affordable, but in my opinion high-quality ingredients should be the highest priority when it comes to choosing a prenatal vitamin.
One A Day Prenatal Vitamins Conclusion
After researching this prenatal vitamin, I just don't feel good about recommending it. It contains questionable ingredients, and low concentrations of important vitamins and minerals. Even though its affordable, One A Day Plus DHA Prenatal, is not the prenatal vitamin I would choose. I would look for something more affordable, with double the amount of calcium, and no synthetic dyes.