If you're looking for a delightful and nutritious snack to satisfy your sweet cravings, look no further than our mouthwatering Pecan Cranberry Oatmeal Bites! These delectable treats combine the nutty goodness of pecans, the tangy sweetness of cranberries, and the wholesome goodness of oats into a perfect harmony of flavors1https://owlbbaking.com/pecan-cran-oatmeal-bites/.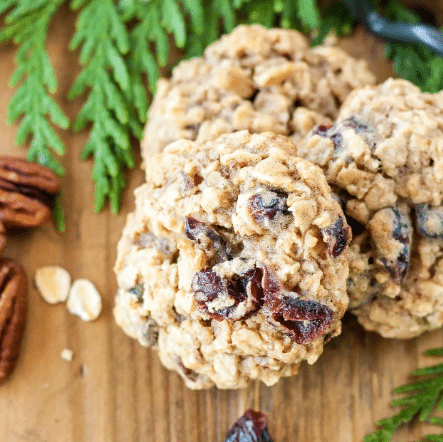 Not only are they incredibly tasty, but they're also easy to make and packed with essential nutrients2https://spaceshipsandlaserbeams.com/cranberry-pecan-oatmeal-cookies/. Get ready to indulge guilt-free in this fantastic recipe that will leave you wanting more!
Nutritional Information per Serving
Calories: 124kcal

Carbohydrates: 15g

Protein: 1g

Fat: 6g

Saturated Fat: 2g

Cholesterol: 19mg

Sodium: 60mg

Potassium: 43mg

Fiber: 1g

Sugar: 7g

Vitamin A: 140IU
Calcium: 12mg
Iron: 0.6mg
The Recipe for Pecan Cranberry Oatmeal Bites
Prep Time:

10 minutes

Cook Time:

15 minutes

Total Time

: 25 minutes  

Yield

: 40
Equipments and Kitchen Utensils Used in the Recipe
Mixing bowl

Measuring cups and spoons

Wooden spoon or spatula

Baking sheet or tray

Parchment paper or silicone baking mat

Food processor or blender (for grinding oats and nuts)

Cookie scoop or spoon for portioning the mixture

Oven for baking
Ingredients
½ cup of brown sugar

¼ cup of granulated sugar

1 egg

4oz of yogurt ((plain or flavored, Greek style or regular))

1 teaspoon of vanilla extract

¾ cup of all-purpose flour

½ teaspoon of baking soda

½ teaspoon of cinnamon ((I prefer Ceylon cinnamon))

¼ tablespoon of salt

1½ cups of oats ((quick cooking or old fashioned can be used))

½ cup of pecans ((chopped roughly))

½ cup of dried cranberries
Instructions
Preheat the oven to 350°. Line a mini muffin pan with mini muffin cups.

In a large bowl, combine the sugars and egg until light and creamy. Then, add the yogurt and vanilla. Mix well.

In a medium bowl separately, whisk together the flour, baking soda, cinnamon and salt.

Add the dry ingredients to the wet ingredients and mix until just moistened and combined.

Stir in the oats using a spatula or wooden spoon. Lastly, fold in the chopped pecans and dried cranberries. The batter will be thick and very sticky.

Using a 2 teaspoon sized cookie scoop, add one scoop to each muffin cavity.

Bake for about 15 minutes or until lightly browned and firm.

Cool fully before storing. These can be left in an airtight container for 4-5 days. They can also be frozen for 3-4 months.
Recipe Note
On the counter:

These oatmeal cranberry cookies can be stored, in an airtight container, on the counter for 3 days.

In the fridge:

Store in the refrigerator for up to 5 days.

Make ahead

: You can make these oatmeal cranberry pecan cookies ahead of time and freeze the cookie dough balls after they have chilled for 3 hours.

You can just take them off the baking sheet and place them into a freezer-safe, zip-top bag, and they will last in your freezer for up to 3 months.

When you are ready to bake, you will need to place them onto a prepared cookie sheet on the counter while your oven is preheating.

You may need to add a couple of minutes to your bake time but just watch them closely to make sure not to overbake them.
Deliciously Nutritious: Unveiling the Recipe for Pecan Cranberry Oatmeal Bites - A Tasty and Wholesome Delight
Satisfy your sweet cravings with these delectable Pecan Cranberry Oatmeal Bites. This easy-to-make recipe offers a blend of flavors and textures that will delight your taste buds3https://livforcake.com/cranberry-pecan-oatmeal-cookies/.
Whether you enjoy them as a quick pick-me-up or a healthy treat after a meal, these oatmeal bites are sure to become a favorite among your family and friends. Give this recipe a try and enjoy the guilt-free pleasure of snacking on these delightful bites!