Antibodies against the antigens of another member of the same species are called isoimmunization.
Continue reading to learn more about Rhesus Isoimmunization.
What is Rhesus Isoimmunization in pregnancy?
Rhesus Isoimmunization occurs when the baby's blood causes the mother's body to produce antibodies that may damage the child's blood cells.
Causes of Rhesus Isoimmunization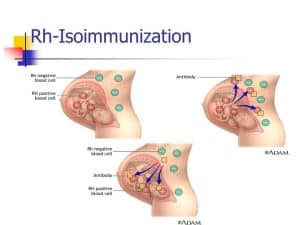 Photo credit: Blood type dating
The parent is responsible for a baby's Rh status. There is a 50% probability that a kid born to an Rh-negative mother and an Rh-positive father would be Rh-positive.
Rh isoimmunization may occur if the mother's blood is exposed to the baby's Rh-positive blood. This might happen once:
An abortion that has been induced
Trauma
An ectopic pregnancy.
Miscarriage
Pregnancy procedures such as amniocentesis are quite uncommon.
It is particularly common near the conclusion of pregnancy when the blood is mixed. This implies that a woman's first pregnancy is almost never complicated by it. Even if the blood isn't mingled, the mother's antibodies might have an impact on a future pregnancy with a kid who has Rh-positive blood.
Rh-positive blood may also cause a woman to become allergic if she receives a blood transfusion that does not match her own blood type.
Management of rhesus isoimmunization in pregnancy
In cases of isoimmunized pregnancy, when the fetus is anemic and not yet developed enough to be delivered, IUT is seen to be the most successful treatment. The baby is at danger of developing hydrops and dying in the womb if IUT is not performed.
How is Rhesus Isoimmunization diagnosed?
Rh incompatibility cannot be detected by yourself. You can find out whether you're Rh positive or Rh negative by having a blood test done. Also, the blood test may screen for Rh antibodies or monitor their levels throughout pregnancy. An amniocentesis may tell whether the fetus is unwell if the antibodies levels are too high.
Rhesus Isoimmunization is caused by what?
The mother's immune system creates antibodies that attack and kill the baby's red blood cells if the baby's protein is different from the mother's protein. The deficiency of red blood cells may cause anemia in the fetus even before birth. Even while the Rh(D) protein is the most prevalent culprit, other proteins such as KELL and Duffy may also contribute to this issue.
Rhesus Isoimmunization Prevention
Women who have not yet received their isoimmunization should be protected from becoming sensitized. In order to prevent unplanned fetomaternal hemorrhages and any antepartum event with the potential to trigger subsequent FMH, anti-D immunoglobulins may be given as a preventive dosage. One percent of Rh-D negative women will acquire antibodies by the end of their first Rh-D + pregnancy if no prophylaxis is offered. During childbirth, 7–9% of extra women will develop sensitization to the drug. During the first six months after birth, another 7–9 percent would acquire antibodies. As a result, the second pregnancy would sensitize around 17% of women.
Anti-D prophylaxis given to pregnant women and babies at birth has shown to be the most effective method of reducing the number of Rh isoimmunizations. Isoimmunization has been linked to Rh-D sensitization in the final few weeks of an uncomplicated pregnancy, according to experts. Either a deficiency in anti-D or a failure to adequately cover the events that might lead to FMH could explain this. Clear directions on how to provide medications and when to administer them might nearly completely eradicate this disease. To minimize isoimmunization against all other small red cell antigens, it is best to avoid donation of Rh-D positive blood into Rh-D negative women and to ensure that the blood is adequately cross-matched prior to transfusion.
Symptoms of Rhesus Isoimmunization
Isoimmunization has no side effects on the mother, however, it may have moderate to serious side effects on the infant. Blood cell death is the only result of incompatibility, no matter how small. Occasionally, the infant will die as a result of the procedure. When it's serious enough. Immediately after delivery, the infant's epidermis and eyes will become yellow, and the newborn will be sluggish and unable to move.
Rhesus Isoimmunization may be detected in a number of ways.
Prenatal checkups may identify women at risk for rhesus isoimmunization by blood type, Rh type, and antibody screening testing. Amniocentesis may be used to identify the exact incompatibility before the baby is born. If rhesus isoimmunization is shown to be the cause of the baby's anemia, we use ultrasonography to assess the severity of the condition. An abnormally high amount of bilirubin in the umbilical cord blood sample and evidence of red blood cell breakdown in the newborn's blood may also be seen after delivery, as can a positive Coombs blood test result.
Rhesus Isoimmunization therapy options are limited.
One of the following two alternatives is possible if the baby's anemia is severe: It is the responsibility of the neonatologists to decide when a baby is mature enough to be born and put in the critical care nursery, where he or she will receive blood transfusions and other treatments. A needle is inserted into the infant's umbilical cord and red blood cells are administered to the newborn before it is delivered in cases when the baby is too preterm to safely birth.
Treatment of Rhesus Isoimmunization
Rhesus Isoimmunization may be avoided nearly entirely with vaccination. Preventive care is the best therapy. Rhesus Isoimmunization may need therapy for the newborn if it manifests in symptoms such as:
Symptoms that are not life-threatening
In cases of minor Rh incompatibility, full recovery is predicted. treatments include:
Hydration that is aggressive
Light therapy for skin conditions is called phototherapy.
An increase in bodily fluids (hydrops fetalis)
A more serious ailment that may necessitate:
Intrauterine fetal transfusion—to replenish the blood cells that are being lost during pregnancy.
Early labor induction
Infants receiving a straight transfusion of packed red blood cells that are compatible with their own blood
Removing the mother's antibodies via an exchange transfusion
Fluid retention and heart failure management
Treatment options for kernicterus include:
Transfusion of Rh-negative blood cells in place of the baby's own blood
Phototherapy
More severe disorders include hydrops fetalis and kernicterus. extreme instances may lead to long-term issues, such as:
Delays in the processing of information
Disturbances of movement
loss of hearing
Seizures
In what ways might the immune system be protected?
RhoGAM may be administered to pregnant women and new mothers who have been recognized as having Rh-negative blood type (Rh-immune globulin).