Indulge in the delightful flavors of a Small Batch Cherry Crisp, a mouthwatering dessert perfectly portioned for two. Bursting with the sweetness of juicy cherries and topped with a golden, buttery crumble, this dessert is a heavenly treat for any occasion. 
In this article, we will explore the simple steps to create this delectable dish, along with its nutritional information and essential kitchen tools to make your culinary experience seamless.
Small Batch Cherry Crisp: A Taste of Heaven?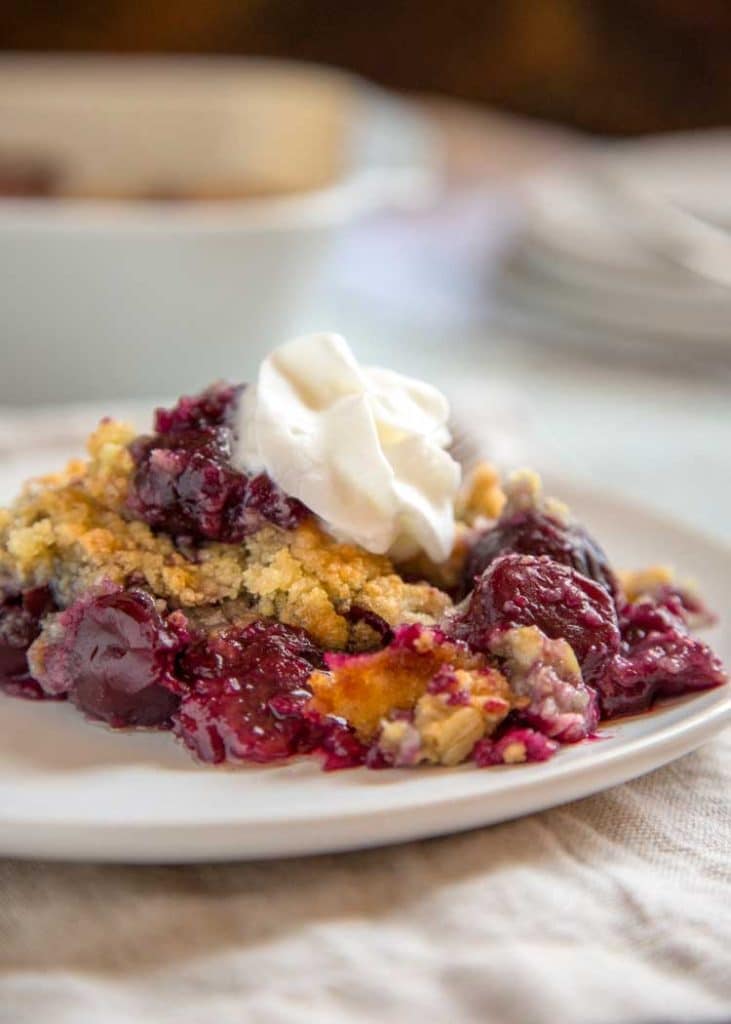 Indulge in the delightful goodness of this simple cherry crisp recipe, brimming with juicy fresh cherries and adorned with a delectable oatmeal crumble. Specially crafted for two hearty servings, this dessert is a perfect choice for a cozy date night treat!1https://www.designmom.com/mini-cherry-crisp-recipe-dessert-two/
Crisps, with their captivating simplicity, never fail to amaze with their burst of flavors. The natural sweetness of the fresh fruit pairs exquisitely with the irresistible crunch of the crumble on top, creating a delightful harmony of textures.
And that's not all – this dessert allows for a touch of creativity too! Customize the topping with your favorite ingredients like chopped nuts, slivered almonds, oats, or a sprinkle of cinnamon – the possibilities are endless, limited only by what you have stocked in your pantry! Embrace the joy of culinary experimentation and make this cherry crisp truly your own.
Nutritional Information (per serving):
Calories: 250

Carbohydrates: 40g

Protein: 3g

Fats: 9g

Saturated Fat: 5g

Polyunsaturated Fat: 1g

Monounsaturated Fat: 2g

Cholesterol: 20mg

Sodium: 100mg

Potassium: 160mg

Fiber: 4g

Sugar: 25g

Vitamin A: 8% DV
Calcium: 4% DV
Iron: 6% DV
The Recipe for Making Small Batch Cherry Crisp
Prep Time:

15 minutes

Cook Time:

25 minutes

Total Time:

40 minutes

Freezing Time:

Not applicable

Servings:

2

Cuisine:

American

Course:

Dessert
Equipment and Kitchen Utensils:
Two individual ramekins or baking dishes

Mixing bowl

Measuring cups and spoons

Mixing spatula or spoon

Oven
Ingredients:
1 cup fresh cherries, pitted and halved

2 tablespoons granulated sugar

½ teaspoon lemon juice

¼ teaspoon almond extract (optional, but adds a delightful flavor)

⅓ cup old-fashioned rolled oats

2 tablespoons all-purpose flour

2 tablespoons packed light brown sugar

¼ teaspoon ground cinnamon

Pinch of salt

2 tablespoons unsalted butter, chilled and cut into small pieces
The Directions for the Heavenly Tasting Small Batch Cherry Crisp Recipe
Preheat your oven to 375°F (190°C) and lightly grease two individual ramekins or baking dishes2

https://www.forkinthekitchen.com/small-batch-cherry-crisp/

.

In a mixing bowl, gently combine the fresh cherries, granulated sugar, lemon juice, and almond extract (if using). Let the mixture sit for a few minutes to allow the flavors to meld.

In another bowl, mix the rolled oats, all-purpose flour, light brown sugar, ground cinnamon, and a pinch of salt. Add the chilled butter pieces and use your fingers to incorporate the butter into the dry ingredients until a crumbly texture forms.

Divide the cherry mixture evenly between the two prepared ramekins or baking dishes.

Sprinkle the oat topping over the cherries, covering them entirely.

Place the ramekins on a baking sheet to catch any potential spills and bake in the preheated oven for 20-25 minutes or until the topping turns golden brown, and the cherry juices bubble up around the edges.

Remove from the oven and allow the crisps to cool slightly before serving.
Tips for the Best Small Batch Cherry Crisp
Experiment with different types of cherries like Bing, Rainier, or Montmorency for unique flavor profiles.

Serve the warm cherry crisp with a scoop of vanilla ice cream or a dollop of whipped cream for an extra indulgent treat.

If cherries are not in season, you can use frozen cherries, just remember to thaw and drain them before use.
Small Batch Cherry Crisp: Truly a Taste from Heaven
Experience the luscious taste of Small Batch Cherry Crisp - a divine dessert tailored for two. Whether for a romantic date night or a special celebration, this delightful dish is sure to satisfy your sweet cravings3https://owlbbaking.com/small-batch-cherry-crisp/. 
With its simple preparation and heavenly taste, Small Batch Cherry Crisp is a dessert that will leave a lasting impression on your taste buds. Indulge and enjoy the harmony of flavors in this heavenly treat!