Whenever it comes to pregnancy, a pregnancy scan is one of the most vital medical procedures. High-frequency sound waves are used in this medical treatment to get real-time photographs of the interior of the patient's body. Pregnant women have found this technique, also called ultrasound scan, to be quite beneficial in determining the health of the developing baby.
This article examines the cost of an ultrasound scan in Nigeria today, and the importance of this scan.
What is a Pregnancy Scan?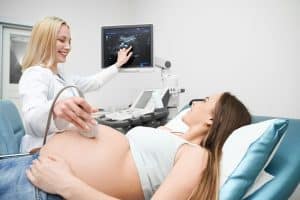 Photo credit: Central Oregon Radiology Associates
A pregnancy scan produces pictures of a Foetus within the uterus using sound waves. A pregnancy scan is also known as a fetal ultrasound (sonogram). Pregnancy scan pictures may be used to assess the growth and development of your baby and to keep tabs on how far along you are in your pregnancy. 
In Nigeria, how much does a Pregnancy Scan cost?
Many medical facilities and clinics around the nation do pregnancy scans, which is becoming a frequent diagnostic tool. As a result, it is one of the cheapest and least time-consuming treatments.
When it comes to how long the procedure takes, there are a few things to keep in mind. There are a few things to keep in mind while deciding which body area to scan. Another factor to consider is the sort of hospital or clinic where the operation will be performed. Private hospitals and clinics tend to be more expensive than government-owned facilities, on average. As a result, the two items are likely to be markedly different in price.
Most hospitals or clinics in Nigeria get N3000 for scanning but it actually depends on the clinic or hospital that the scanning is being performed, a pregnancy scan might cost anywhere ranging from N5,000 to N15,000. In addition, the price of the procedure may be affected if you have to pay for medications administered after the ultrasound scan.
What You Should Know About Pregnancy Scan
Ultrasonography is a method of body imaging that uses sound waves to expedite making a medical diagnosis. A professional ultrasound technician is able to see inside the body using the process to answer questions that could be asked by the health practitioner caring for the patient. Generally, a radiologist will supervise the ultrasound scan test and report to the medical doctor.
Some other types of doctors may also use pregnancy scans as a diagnostic tool. For instance, obstetricians use ultrasound scans to assess the Foetus during pregnancy. Surgeons and emergency doctors use ultrasound at the bedside to evaluate abdominal pain or other similar concerns.
During the process, a transducer is used to project and collect the sound waves and their echoes. A gel is spread onto the patient's skin so that the sound waves are not inaccurate as they move through the skin. Using their knowledge of human anatomy and the scanning machine, the specialist can assess specific structures and answer the question asked by the patient's physician.
The process may take a significant amount of time and may require the transducer to be shifted and pointed in different directions. Also, the specialist may need to vary the quantity of pressure used to push the probe into the skin.
Generally, a pregnancy scan allows the doctor to see problems with organs, vessels, and tissues without necessarily requiring to make an incision. Unlike most other imaging methods, ultrasound does not involve radiation. Because of this, it rates among the most preferred methods for viewing a developing Foetus during pregnancy.
How Pregnancy Scan Works and What You Need to Know
How  Pregnancy Scan Works and What You Need to Know is a form of body imaging that employs sound waves to speed establishing a medical diagnosis. A competent pregnancy scan technologist is able to view within the body utilizing the technique to answer queries that may be posed by the healthcare professional caring for the patient. Typically, a radiologist will oversee the pregnancy scan test and report to the healthcare professional or medical doctor.

Some other sorts of physicians may also utilize pregnancy scans as a diagnostic technique. For instance, obstetricians utilize pregnancy scans to examine the baby throughout pregnancy. Surgeons and emergency physicians utilize pregnancy scans to examine abdominal discomfort or other comparable problems.

With a transducer, the sound waves are transmitted, amplified, and recorded. To ensure that the patient's skin isn't impeded by the sound waves, a gel is applied. Using their understanding of human anatomy and the scanning equipment, the specialist may examine particular structures and answer the query given by the patient's physician.

The procedure may take a large duration and may need the transducers to be relocated and directed in various directions. Also, the expert may need to alter the amount of pressure utilized to drive the probing into the skin.

Generally, a pregnancy scan enables the doctor to spot abnormalities with organs, arteries, and cells without always having to create an incision. Pregnancy scan, in contrast to most other scanning techniques, does not use any radiation at all. A pregnancy scan ranks among the most popular ways of examining a growing baby throughout pregnancy. 
Uses of Pregnancy Scan
A pregnancy scan is often used to diagnose, treat, and supervise procedures such as biopsies; it is also employed for these purposes. Vital organs like the pancreas, thyroid gland, testicles, and ovaries, as well as many other regions of the body, may also be scanned using this method.
Tumors may be detected using a pregnancy scan. You never know what kind of disease you're going to find here. Detection of problems in the joints and soft tissues may also be done using this method. There are a number of conditions that may be tested with this device, including frozen shoulders and tennis elbow.
A pregnancy scan technique known as Doppler may be used to measure blood flow in a vein or pulse rate. It has the ability to specify both the rate of blood flow and the presence of any impediments. Doppler pregnancy scan is often used to do an echocardiogram.  Imaging of the systemic circulation and measurements of blood flow. 
Pregnancy scan applications.
Various stages of pregnancy may need the use of a pregnancy scan, including:
Pregnancy Scans in the first trimester are used to identify the numbers of embryos, determine gestational age, and determine when a baby is scheduled to arrive.

During the second trimester, around weeks 18 and 20, a pregnancy scan is used to examine the progress of the developing fetus' spine, limbs, brain, and internal organs. In addition, the placenta's size and position are assessed. If the parents so want, the gender of their child may be determined. 

Third-trimester pregnancy scans are used to ensure that the fetus continues to develop at a normal pace after 30 weeks of pregnancy. Checks are made to ensure that the placenta does not impede the cervix during delivery.
We are sorry that this post was not useful for you!
Let us improve this post!
Tell us how we can improve this post?