If you're reading this article, then you are most likely familiar with garden eggs. Most people are ignorant of the fact that garden eggs, one of the best foods, are packed with some surprising health benefits you wouldn't want to miss out on.
As a matter of fact, while these small, egg-shaped fruits may not be as popular as other vegetables, they have been consumed for ages and have also been used as medicine in treating several illnesses due to the nutritional value they possess.
Whether you're a fan of their unique taste or have yet to discover their deliciousness, this blog post will uncover the ten surprising ways that garden eggs can improve your overall well-being. From boosting your immune system to promoting heart health, there's a lot more to these little vegetables than meets the eye.
Read Also: Health Benefits of Green Tea During Pregnancy and Side Effects
But wait, before we go on further into the health benefits of garden eggs, let's take a quick look at what it really is for those who have absolutely no idea.
What is a Garden Egg?
Garden egg, also known as eggplant or aubergine, is a nutritious vegetable that belongs to the Solanaceae family. It is widely cultivated and consumed in various parts of the world, most especially in Africa and Asia.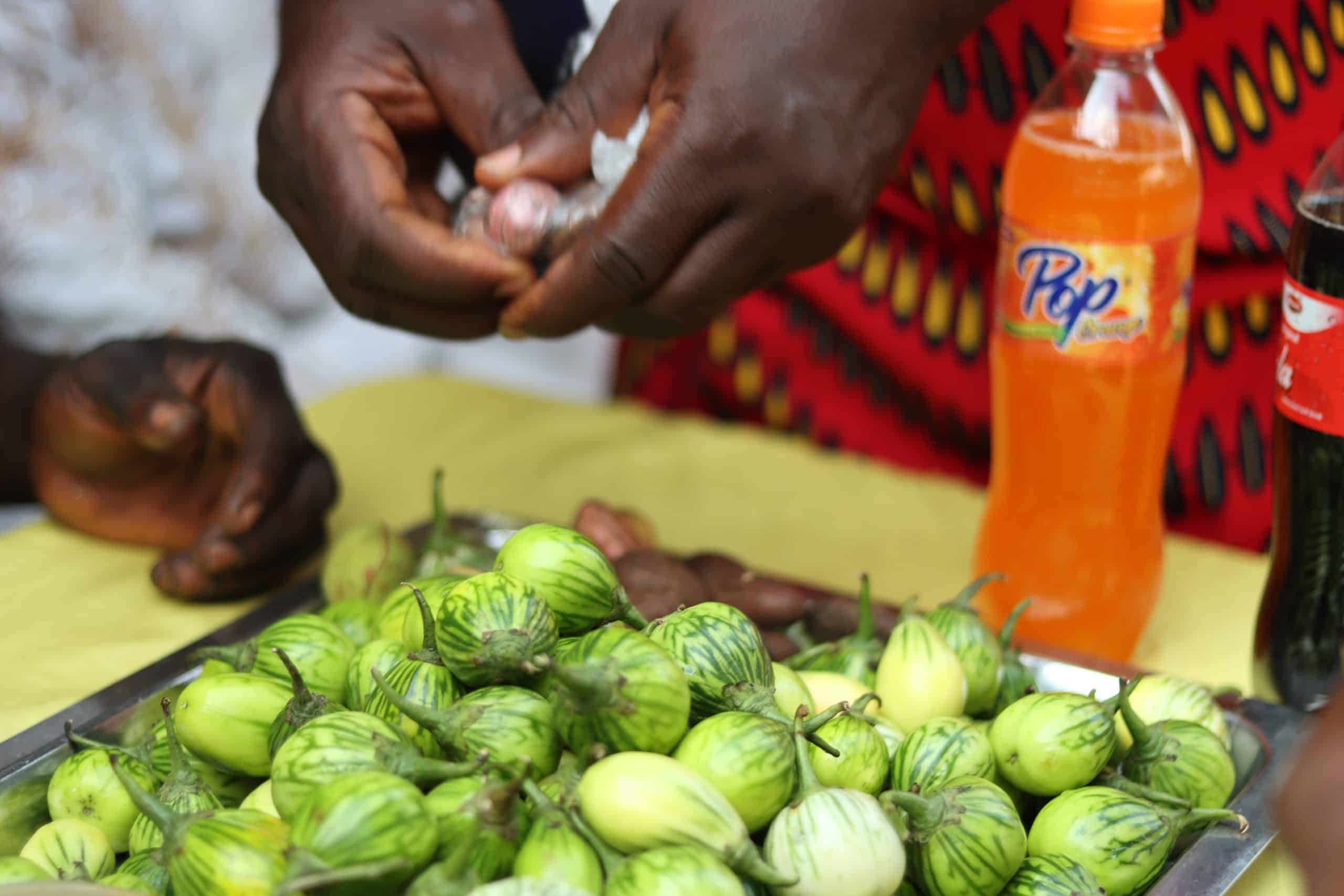 The garden egg is characterized by its small, roundish shape and fleshy interior, which can be either white, purple, green or yellow depending on the variety. It has a mild, slightly bitter flavour when consumed.
They are a good source of dietary fibre, potassium, magnesium, vitamin C, vitamin K and antioxidants such as anthocyanins. On top of that, they are low in calories and fat. Garden eggs can be consumed either raw or cooked depending on how you like it. 
11 Surprising Health Benefits of Garden Eggs
1. Weight Loss
Weight loss is a common concern for many individuals, and introducing garden eggs into your diet can be a great way to support your efforts. This vegetable is low in calories and high in fibre, making it an excellent choice for weight loss. Its high fibre content helps you feel fuller for an extended period of time, reducing the chances of overeating or craving for junk or unhealthy snacks.
2. Promotes Heart Health
Research suggests that consuming garden eggs can help reduce the risk of heart disease. It contains antioxidants like anthocyanins that have been shown to help reduce inflammation and oxidative stress, both of which are linked to the development of heart disease.
3. Improves Digestion
With their high fibre content, garden eggs can aid digestion by promoting regular bowel movements and preventing constipation. The high fibre content of garden eggs also helps maintain a healthy gut by nourishing beneficial bacteria in the intestines. These good bacteria are essential for proper digestion and nutrient absorption. 
4. Regulates Blood Sugar Level
Garden eggs has a low glycemic index, meaning it does not cause a significant spike in blood sugar levels. This makes it suitable for individuals with type 2 diabetes or those at risk for developing diabetes and are looking to manage their blood sugar levels.
5. Improves Bone Health
Garden eggs contain essential minerals like calcium and potassium, which contribute to strong bones and prevent conditions like osteoporosis. It is a good source of vitamin K, which plays a critical role in regulating calcium absorption and utilization by the body. Vitamin K deficiency has been linked to an increased risk of fractures and weakened bones.
6. Promotes Healthy Vision
The presence of vitamins A and C in garden eggs promotes good vision and reduces the risk of age-related eye conditions such as cataracts. Garden egg also contain zeaxanthin and lutein, two important nutrients that are beneficial for eye health. These compounds have been shown to reduce the risk of age-related macular degeneration (AMD), a leading cause of vision loss among older adults.
7. Promotes Skin Health
Garden eggs are great for maintaining healthy skin. They are rich in antioxidants such as vitamins A and E, which help nourish the skin from within while also protecting it from damage caused by free radicals. The vitamin A present also improves collagen production – a protein that helps to keep our skin firm and elastic, reducing the appearance of wrinkles and fine lines. 
8. Protects Against Cancer
Cancer is a devastating disease that affects millions of people worldwide. The good news is that garden eggs may have the potential to help prevent cancer. Some compounds present in garden eggs have been shown to inhibit the growth of cancer cells and reduce the risk of certain types of cancers such as breast and colon cancer.
9. Immune Boosting Properties
Garden eggs are packed with immune-boosting nutrients such as vitamins C, E, K , B-6 , Folate, Potassium, which are known to support immune function. Vitamin C, in particular, is well-known for its ability to strengthen the immune system by stimulating the production of white blood cells that fight off infections. Also, garden egg contain antioxidants that help protect your body against harmful free radicals. 
10. Lowers Cholesterol Level
Cholesterol is a waxy substance found in our bodies and certain foods that can build up in our arteries and lead to heart disease. Studies have shown that the high fibre content in garden eggs helps to reduce the absorption of cholesterol into the bloodstream, leading to improved heart health.
11. Beneficial During Pregnancy
If you're expecting a child or planning on starting a family soon, incorporating garden eggs into your diet during pregnancy provides several advantages. They are loaded with folate which plays a crucial role in preventing neural tube defects in infants during early development stages.
Read Also: 10 Amazing Health Benefits of Palm Wine You Probably Don't Know About!
Side Effects of Consuming Garden Egg
While garden eggs are generally considered safe to eat and offer numerous health benefits, it's important to be aware of potential side effects that some individuals may experience.
Allergic Reactions

: Some people may be allergic to garden eggs and develop symptoms such as itching, swelling, or difficulty breathing. If you have a known allergy to other nightshade vegetables like tomatoes or potatoes, it's advisable to exercise caution when consuming garden eggs.

Digestive Issues

: Garden eggs contain high amounts of fibre which can promote healthy digestion for most people. However, if consumed in excess or by individuals with sensitive digestive systems, it can lead to bloating, gas, or diarrhoea.

Oxalate Content

: Garden egg is rich in oxalates which can contribute to the formation of kidney stones in susceptible individuals. If you have a history of kidney stones or are at risk for developing them, it's recommended to moderate your intake of garden eggs.

Solanine Sensitivity

: Like other members of the nightshade family, garden eggs contain solanine - a naturally occurring toxic compound found in plants. While the levels are usually low and not harmful when cooked properly, some individuals may be more sensitive and experience symptoms like nausea or headache if they consume undercooked or unripe garden egg.

Interference With Medications

: Garden eggs contain compounds that may interact with certain medications such as blood thinners like warfarin. It's essential for individuals taking medication regularly to consult their healthcare provider before adding large quantities of garden egg into their diet.
Remember that these side effects are not experienced by everyone and might vary from person-to-person depending on individual sensitivities and overall health status.
Conclusion
Garden eggs are not only delicious and versatile in cooking but also offer a wide range of surprising health benefits. From aiding weight loss to improving heart health, boosting digestion to promoting healthy skin, these humble vegetables truly pack a punch when it comes to nutritional value.
However, it is important to consume garden eggs in moderation and be aware of any potential side effects. Excessive consumption may lead to digestive issues or interfere with certain medications. It is always advisable to consult with a healthcare professional if you have any concerns or pre-existing medical conditions.