Nursing books can be a very useful tool if you decide to breastfeed your child.
For some new mothers, breastfeeding has a learning curve, so it's never a bad idea to seek out sound advice from professionals on how to handle this lovely new responsibility.
Think about nursing books that are appropriate for your needs, have pictures to make the information clearer, and have the tone you want then this article got your covered . 
Why  you need books on breastfeeding :
A positive breastfeeding experience depends on having the right information.
While websites like this one are great resources for knowledge, you should also own at least one book on breastfeeding.
You'll save time and frustration if you own one or two of these best breastfeeding books. 
They will also give you information backed by facts and helpful guidance.
The top breastfeeding books are listed below for mothers who are breastfeeding:
Ina May's Guide to Breastfeeding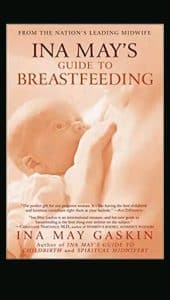 Parents who are familiar with Ina May Gaskin will value her friendly, welcoming demeanor in this breastfeeding manual. This book covers every subject with warmth and compassion and is crammed with a variety of medical facts, true tales, and practical advice.
Pros 
Talk about breastfeeding challenges

Increases comfort with nursing in public

Personal narratives are interspersed
Cons
Some of the data is dated.

Some parents experience guilt
Read also :Effect of Gin on Early Pregnancy
Breastfeeding Made Simple: Seven Natural Laws for Nursing Mothers 
We gave "Breastfeeding Made Simple: Seven Natural Laws for Nursing Mothers" a good ranking because it offers parents guidance on breastfeeding and how to deal with frequent issues. 
And because it provides "a beautiful dissection of how breastfeeding works physically and how moms may make it their own, with an excellent foundation in evidence-based research, making it trustworthy. 
This book, which is a treasure of knowledge, is beneficial from the newborn stage through the switch to solid meals.
Pros
Offers nursing opportunities

Teaches infant care

Describes the mental and physical impacts of producing milk.
Cons
Bias against the use of bottles and formula
Read also :How to breastfeed properly: Avoiding Bad latch (Pictures)
"The Nursing Mother's Companion: The Breastfeeding Book Mothers Trust, From Pregnancy Through Weaning"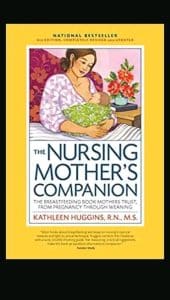 Some caretakers will enjoy this classic choice, while others might prefer a more modern novel. The book, now in its eighth edition, is jam-packed with knowledge and provides answers to almost all the questions a new parent would have. The tone and the fact that it primarily addresses mothers may turn off some readers.
Pros
Advice for juggling work and breastfeeding

Postpartum information

Discusses storing breast milk
Cons
Not encouraging to some

Language is not inclusive.
Read also : Calculator of child gender by the method of "Blood Updates"
The Womanly Art of Breastfeeding by Diane Wiesinger and Diana West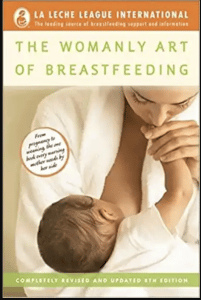 The Womanly Art of Nursing by La Leche League, a breastfeeding classic, must be included on any list of the top breastfeeding books. 
Currently in its eighth edition since its initial publication in 1958.
This well-liked book has lasted the test of time. 
Pros
Includes sections on solids and sleep

An alphabetical list of typical breastfeeding difficulties

Paperback or on Kindle
Cons
Given that The Womanly Art of Breastfeeding hasn't been updated since 2010, I urge you to include another general breastfeeding book to your list.
Exclusively Pumping Breast Milk – A Guide To Providing Expressed Breast Milk For Your Baby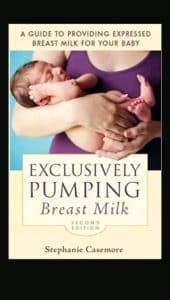 This book will address all of your concerns and give you priceless advice to support you along your solely pumping path, whether you find yourself doing it out of need or choice.
Pros 
This book helps provide tips for Choosing an option, managing emotions during breastfeeding

It helps state differences betweennursing directly andpumping milk

Harold solve problems encountered while using feeding Pumps

Weaning 

Available on Kindle or Paperback.
Cons
Breastfeeding with Confidence by Sue Cox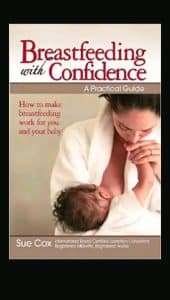 The main aim of the book "Breastfeeding with Confidence" is to remove the mystique around the procedure and to provide new mothers the skills and knowledge they need to be successful. 
In her explanation of breastfeeding, author Sue Cox tackles the reality that while producing milk occurs naturally, breastfeeding is an acquired technique. 
And to acquire this technique , her book is blessed with positive manner by providing new mothers with information, suggestions, support, resources, and encouragement.
Work Pump Repeat by Jessica Shortall 
The "exclusively pumping breast milk"is every breastfeeding mother's archenemy if she works and is also a mother. 
Many women have moved past the notion that "breast is best" and are now focusing on learning how to generate milk while resuming busy careers. 
The first book to educate women on these topics is Work. Pump. Repeat. 
Jessica Shortall provides a road map for negotiating the pumping schedule with coworkers, navigating business travel, and problem-solving when forced to pump in less-than-ideal locations. 
She also shares the practical details of surviving the working world as a breastfeeding mom. 
She gives women advice by drawing on the war stories, hacks, and humor of working moms as well as her own experiences from her demanding job and travel in developing nations.
The Ultimate Breastfeeding Book of Answers by Jack Newman MD and Teresa Pitman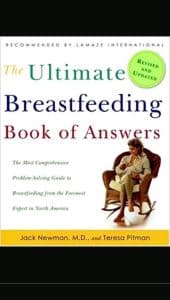 Dr. Jack Newman, a recognized expert on newborn care, and Teresa Pitman, a La Leche League leader for more than 20 years, educate you with the facts regarding breastfeeding and solutions to typical issues that may come up in this thorough handbook. 
The new edition includes updates on: achieving a good latch, what to do if your baby refuses the breast, avoiding sore nipples, making sure your baby gets enough milk, feeding a colicky baby, and breastfeeding premature and special-needs babies. 
The first edition was full of the practical advice that made it a must-have for nursing moms.
Latch: A Handbook for Breastfeeding with Confidence at Every Stage by Robin Kaplan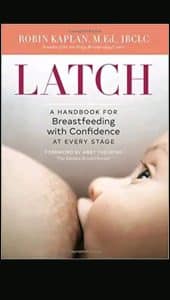 Latch is a nonjudgmental breastfeeding manual that will teach you everything you need to know to achieve your unique nursing objectives . 
International Board-Certified Lactation Consultant, Robin Kaplan, addresses specific breastfeeding concerns in Latch: A Handbook for Breastfeeding with Confidence at Every Stage. 
This will help you feel empowered while breastfeeding and overcome obstacles as they present themselves. 
She is a mother of two who conquered her own breastfeeding obstacles and has worked with other mothers who felt unique in their breastfeeding issues, so she is aware of how intensely personal breastfeeding is. 
Latch addresses the most important subjects at each stage of breastfeeding in an empathic and encouraging manner.
In conclusion
Since parents can physically touch a nursing book, flip to the topics that interest them, put the book down (hello, crying newborn), and quickly start up where they left off, it can occasionally be more useful than online or in-person instruction. 
But not all nursing books are appropriate for everyone, so here are some things to think about while making your own decision.
You must consider your need for those struggling and having difficulty with a particular phase of breastfeeding, also consider purchasing books that contain pictures and illustrations for further explanation and lastly check out also for books that meet your desire content in mind when it comes to breastfeeding.