A distinct set of skills are needed over just being able to wear your infant while breastfeeding.
This is because certain carriers make it harder to breastfeed than others, and as such you must develop and master both skills independently to perform this act differently.
The simplicity of use of each type of carrier is listed below, with soft structured carriers being the simplest to use and stretchy wraps and woven wraps being the most sophisticated.
Tips on how to use different types of breastfeeding carrier 
Breastfeeding in a carrier does not completely free up your hands, but it does make it simpler to feed while on the go and can support part of your baby's weight.
Here are some tips on how to use different kinds of breastfeeding baby carriers listed below.
The different types of breastfeeding carriers include:
Woven Wrap breastfeeding carriers

Stretchy Wrap breastfeeding carriers

Ring Sling Breastfeeding carriers

Soft Structured breastfeeding carriers

Meh Dai breastfeeding carriers
Breastfeeding using a stretchy and woven wrap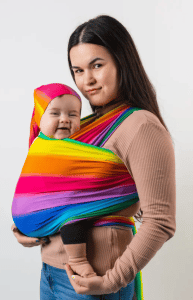 How to breastfeed using different types of breastfeeding baby carriers (simplified). Breastfeeding in a stretchy or woven wrap is a more complicated choice, therefore you should only do it once you feel comfortable doing so!
To acquire the hang of repositioning, it is a fantastic idea to practice with a prop—a doll, for instance.
Here you go for some tips on how to breastfeed a child when using a stretchy and woven wrap:
Support the weight of your baby using your hands.

Loosen the wrap job a little bit by untying the knot.

Check to see if the seat is still in place and reposition it if necessary. 

Gently raise the baby to breast height on the side you plan to nurse.

firmly re-tie the wrap.

Simply move the baby to the new side if you want to switch sides while nursing. 

You might not even need to loosen the carry because your kid is already lower.
Read also: 9 most powerful nursing books for breastfeeding mothers.
How to breastfeed using Ring Sling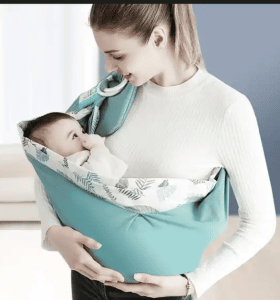 Breastfeeding is only permitted on one side while using a ring sling because most people have a preferred shoulder to wear the ring sling on. However, some people may be comfortable switching shoulders to allow them to feed on both sides.
This might be okay if you need to nurse fast to calm your baby, but it's not the best option if your baby frequently feeds on both sides at once. It is advisable to offer a different breast for each nursing session to prevent engorgement and the possibility of mastitis.
Here are some tips on how to breastfeed a child when using Ring Sling :
Support your baby's weight using your hands

To release the sling strap, gently lift the top ring and pull it upward.

Bring the infant up to breast height.

Verify the seat's integrity and reposition if necessary.

Retighten the sling a little bit to help support your baby when nursing by positioning the infant to latch onto the breast.
Read also: 11 Health Benefits of Melons during Pregnancy (No. 4 is Best) | Scientifically Proven Health Benefits of Melons during Pregnancy
Breastfeeding in a structured baby carrier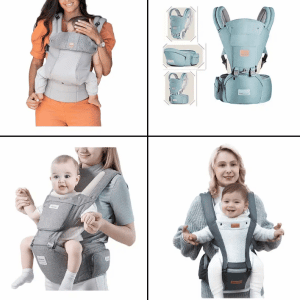 Using a structured baby carrier, when breastfeeding you should:
As usual, place the infant in the carrier.

Gently loosen the waistband, but leave all buckles in place.

Put your thumb beneath the shoulder strap adjuster and pull back to loosen the shoulder strap.

Your infant should be in the carrier with their head at breast level by lowering it.

Move your infant, the carrier, and it to the side you want to nurse from.
Breastfeeding with a Meh dai baby carrier :
Nursing with a wrap carrier is pretty similar to nursing in a meh dai.
It involves the following steps
Always bear your infant's weight using your hands

Remove the knot

Re-tie the carrier securely after lowering the infant to breast height on the side you choose to nurse.
In conclusion 
Once your baby has grown strong in its neck and can support its head, it is considerably simpler to breastfeed them while wearing a carrier.
Nevertheless, periodically it is advised that you check your baby's position while nursing in a carrier to make sure they aren't drooping there. 
And lastly Lifting the baby back up onto your chest into the secure babywearing position is crucial once your baby has finished nursing.