Coconut oil has been a treasured secret in many households for centuries, not just for its delightful flavour alone but also for its versatile uses. It can be used to enhance flavours in dishes or as a moisturiser for your skin and hair. The possibilities are endless, and the best part is? You can make this liquid goodness in the comfort of your own kitchen, and I'm here to guide you through every step of the process.
You might be wondering why bother making coconut oil at home when it's readily available in stores. Well, think about this: the coconut oil you buy off the shelf may have additives, preservatives, or who-knows-what. But when you make it yourself, you will have full control over the process. You can ensure that it's 100% pure, natural, and tailored specifically to your preferences. Plus, it's a fantastic way to save some money along the way.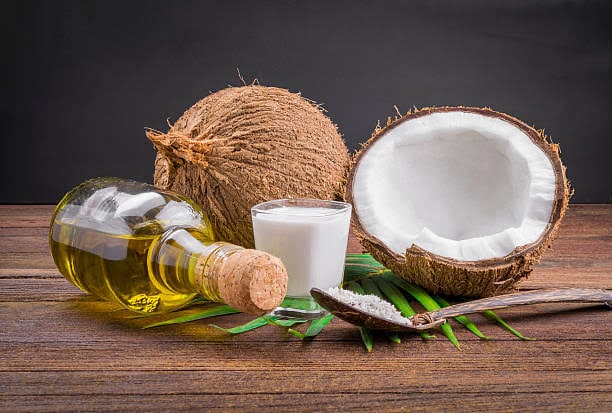 So, if you've ever pondered over the idea of making your own coconut oil from scratch at the comfort of your home, stick around as we will guide you through each of the steps and share some tips that have been passed down through generations, making the process easy and enjoyable. By the end of this article, you'll not only have the knowledge but also the confidence to start your own batch of pure, homemade coconut oil.
Health Benefits of Coconut Oil
Here are seven compelling reasons why you should consider adding coconut oil to your lifestyle:
Promote Heart Health

: Coconut oil contains healthy fats known as medium-chain triglycerides (MCTs), which have been shown to increase levels of "good" HDL cholesterol while lowering levels of "bad" LDL cholesterol.

Weight Management

: The MCTs in coconut oil are easily digested and quickly converted into energy by the body, making it less likely to be stored as fat. Additionally, these fats have been found to increase feelings of fullness and boost metabolism, aiding in appetite control and calorie burning.

Improved Digestion

: The antimicrobial properties of coconut oil can aid in combating harmful bacteria in the gut, promoting better digestion and reducing symptoms such as bloating and constipation.

Enhanced Brain Function

: The MCTs found in coconut oil are easily converted into ketones, which serve as an alternative energy source for the brain. This may help improve cognitive function and protect against age-related decline.

Skin Nourishment

: Coconut oil is rich in antioxidants, vitamins, and fatty acids that nourish the skin from within, leaving it soft, supple, and hydrated.

Hair Care

: Regular use of coconut oil topically on the hair can strengthen follicles, prevent breakage, promote growth, and add shine and lustre to dull locks.

Immune Support

: The lauric acid present in coconut oil possesses antiviral, antibacterial, and antifungal properties that can support a robust immune system by fighting off pathogens from the body.
How to Make Coconut Oil at Home in 7 Easy Steps
Now, unto the main aspect of this article you've been waiting for "how to make coconut oil at home." While it is readily available in stores, making your own coconut oil at home can be a rewarding and cost-effective endeavour. Plus, it allows you to have complete control over the quality and purity of the final product. Continue reading as we would be guiding you step-by-step on how to make this pure coconut oil in the comfort of your kitchen.
Read Also: Cleaving Delightful Delicacies | How to Create Festive Decorated Christmas Cookies (with Varieties)
Ingredients/Equipments Needed to Make Coconut Oil
:
To make coconut oil at home, you'll need a few key ingredients and equipment. Here's what you'll need:
Fresh coconuts

Sharp Knife

Hammer/Mallet

Water

Saucepan

Grater

Blender/Food processor

Cheesecloth/Muslin cloth

Jars/Containers
Remember to always follow proper hygiene practices when handling ingredients and equipment during this process!
Instructions
: 
Step 1: Gather the Coconuts
Start by gathering fresh, mature coconuts. Look for ones that are heavy and have a solid shell. You will need about 3-4 coconuts to make a decent amount of coconut oil.
Step 2: Crack Open the Coconuts
Use a hammer or mallet to crack open the coconuts. Carefully strike around the middle of the coconut until it breaks into two halves.
Step 3: Remove Coconut Flesh
Once you have cracked open all the coconuts, use a spoon or knife to carefully remove the white flesh from inside each half of the coconut shell.
Step 4: Grate and Blend Coconut Flesh
Next, grate the coconut flesh using a grater or food processor then blend or process the grated coconut with water until it becomes a smooth paste-like consistency. Depending on how many coconuts you want to use, you will need to blend in batches. 
Step 5: Extract Coconut Milk
Place the grated/blended coconut in a cheesecloth or muslin cloth and squeeze out as much milk as possible into a container.
Step 6: Let it Settle
Cover the container and allow the extracted coconut milk to sit undisturbed for at least 24 hours so that it separates into two layers – cream on top and water below.
Step 7: Skim off Cream Layer
Gently skim off and collect only the cream layer from above using a spoon or ladle without disturbing the water layer beneath it.
Step 8: Heat and Simmer
Transfer this collected cream layer into a stainless steel saucepan and heat over a very low-medium heat while stirring continuously until all moisture evaporates, leaving behind pure oil residue.
Step 9: Store in Jars
Once cooled down, strain this homemade coconut oil through another clean cloth filter before transferring it into sterilised storage jars with tight lids.
Read Also: How to Make A Perfect Treat of Almond Biscotti (with Epic Guides and Instructions)
Now that you know how easy it is to make your own coconut oil at home let's move on to discussing the various uses of this homemade coconut oil. 
https://m.youtube.com/watch?v=Rff-op8BDwo
Uses of Coconut Oil
Coconut oil is not just a kitchen staple, but also a versatile product that can be used in various ways. Here are some of the many uses of coconut oil:
Cooking

: Coconut oil is a popular choice for cooking due to its high smoke point and unique flavor. It can be used for frying, sautéing, baking, and even as a substitute for butter or vegetable oils in recipes.

Skin moisturizer

: The natural moisturizing properties of coconut oil make it an excellent choice for keeping your skin hydrated and soft. Simply apply a small amount on your skin after showering or use it as an ingredient in homemade body scrubs or lotions.

Hair conditioner

: Coconut oil is known to nourish and condition hair, making it shiny and smooth. Apply melted coconut oil to your hair before shampooing or use it as an overnight treatment for extra hydration.

Makeup remover

: Ditch harsh chemicals and opt for coconut oil as a gentle yet effective makeup remover. Gently massage some coconut oil onto your face using circular motions, then rinse off with warm water.

Oral health

: Oil pulling with coconut oil has gained popularity in recent years due to its potential benefits for oral health. Swishing one tablespoon of coconut oil around in your mouth daily may help reduce plaque buildup and improve gum health.

Natural deodorant

: Due to its antimicrobial properties, coconut oil can be used as a natural alternative to conventional deodorants by neutralizing odors caused by bacteria.

Cleaning agent

: Mix equal parts of melted coconut oil and baking soda to create a natural cleaning paste that can effectively remove stains from surfaces like countertops or sinks without the need for harsh chemicals.
These are just some examples of how versatile coconut oil can be when included into your daily routine! Experiment with different uses to discover what works best for you.
Takeaway
The journey of making your own coconut oil at home has been an enlightening and empowering experience. Not only have you learned a valuable skill, but you have also unlocked the incredible benefits that coconut oil can offer. From its numerous health benefits to its versatile uses in cooking, beauty, and even household cleaning, coconut oil truly is a multipurpose wonder.
By creating your own homemade coconut oil, you have taken control of what goes into your product and ensured its purity. You know exactly where it came from and how it was made. This gives you peace of mind knowing that you are using a natural and organic product without any harmful additives or chemicals.