Indulge in a delightful fusion of flavors with our mouthwatering recipe for Mini Cinnamon Sugar Donut Muffins. These delectable treats combine the best of both worlds, capturing the essence of warm cinnamon sugar donuts in a convenient muffin form.
Perfect for breakfast, brunch, or an anytime snack, these mini muffins are sure to be a hit with family and friends. Follow our simple step-by-step guide to whip up these heavenly delights in your kitchen
Firstly, What are Cinnamon Sugar Mini Donut Muffins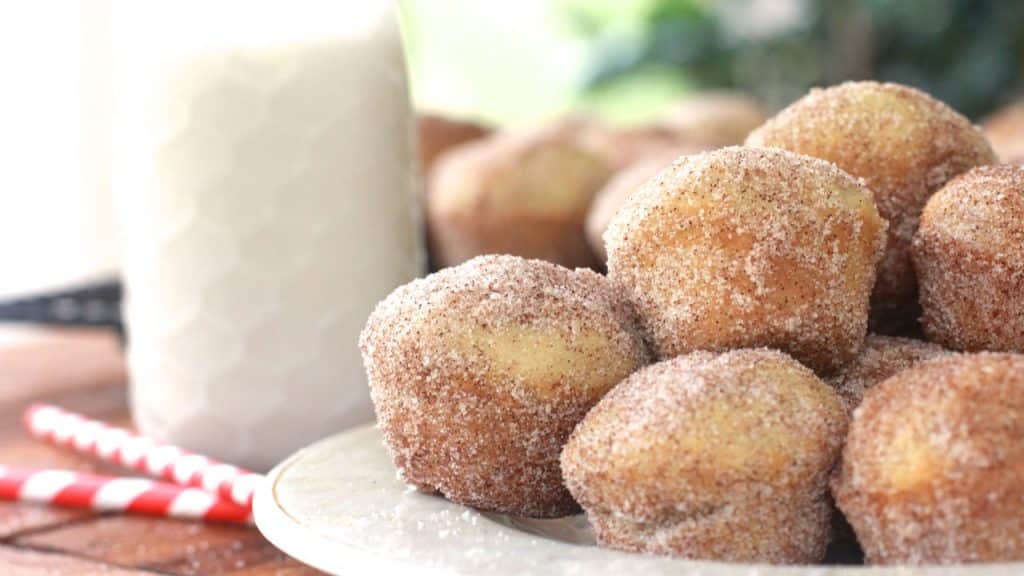 These Cinnamon Sugar Mini Donut Muffins are fluffy and look like muffins but taste like your favorite cinnamon donuts1https://www.crunchycreamysweet.com/cinnamon-sugar-mini-donut-muffins/. They are baked, rolled in butter and cinnamon sugar for a fun little treat!
Nutritional Information Per Serving:
Calories: 118kcal 

Carbohydrates: 16g 

Fat: 5g 

Cholesterol: 14mg 

Sodium: 4mg 

Potassium: 30mg 

Sugar: 11g 

Vitamin A: 170IU 
Calcium: 18mg 
Iron: 0.3mg
The Recipe For Mini Cinnamon Sugar Donut Muffins
Prep Time

:15 mins

Cook Time

:15 mins

Additional Time

:10 mins

Total Time

:40 mins

Servings

:24

Yield

:24 mini muffins
Equipments and Kitchen Utensils Used in the Recipe:
Mini muffins tin

Paper liners (optional)

Mixing bowls

Whisk or electric mixer

Measuring cups and spoons

Rubber spatula or spoon for mixing

Piping bag or plastic resealable bag (for filling the muffin tin)

Cooling rack (to cool the muffins)

Small saucepan (for melting butter)

Pastry brush (for brushing melted butter on the muffins)

Small bowl for cinnamon sugar mixture
Ingredients
:
1 ½ cups all-purpose flour

½ cup granulated sugar

1 ½ tsp baking powder

½ tsp salt

½ tsp ground cinnamon

⅓ cup unsalted butter, melted

¾ cup whole milk

1 large egg

1 tsp pure vanilla extract
For the Cinnamon Sugar Coating:
½ cup unsalted butter, melted

½ cup granulated sugar

1 tsp ground cinnamon
Instructions:
Preheat your oven to 350°F (175°C) and lightly grease a mini muffin tin. Set aside.

Mix dry Ingredients In a large mixing bowl, whisk together the flour, granulated sugar, baking powder, salt, and ground cinnamon until well combined.

In a separate bowl, whisk the melted butter, whole milk, egg, and vanilla extract until smooth. Pour the wet ingredients into the dry ingredients and gently fold together until just combined. Avoid overmixing, as this may result in dense muffins.

Using a spoon or a piping bag, fill each cavity of the mini muffin tin about two-thirds full with the batter.

Place the muffin tin in the preheated oven and bake for approximately 10-12 minutes or until the muffins turn golden brown and a toothpick inserted into the center comes out clean.

While the muffins are still warm, carefully remove them from the tin and brush each muffin with melted butter. Combine the granulated sugar and ground cinnamon in a shallow dish. Roll each muffin in the cinnamon sugar mixture, ensuring they are thoroughly coated.
Serve these delightful mini cinnamon sugar donut muffins warm and enjoy their irresistible taste. These treats are best enjoyed fresh, but they can be stored in an airtight container for up to three days2

https://www.crunchycreamysweet.com/cinnamon-sugar-mini-donut-muffins/

.
Indulge in Irresistible Delights: The Sweet Finale of Mini Cinnamon Sugar Donut Muffins
With our easy-to-follow recipe, you can create these delightful Mini Cinnamon Sugar Donut Muffins in no time. Whether you're serving them for breakfast, snack time, or a special occasion, these mini muffins will undoubtedly impress everyone with their perfect balance of flavors3https://www.allrecipes.com/recipe/214651/donut-muffins/.
Share the love by baking a batch of these heavenly treats today! Happy baking!