New Chapter is a non-prescription prenatal vitamin that is said to be all organic. Perfect prenatal focuses on the fact that there prenatal vitamin contains probiotics which has found to be beneficial when taking prenatal vitamins. New Chapter perfect prenatal vitamin contains 23 vitamins and minerals as well as 13 herbs to help provide the nutrition needed during pregnancy. New Chapter perfect prenatal comes in tablet form and is to be taken 3 times per day.
Ingredients Found in New Chapter Perfect Prenatal Vitamin
Vitamin A (100% as beta-carotene) 2000 IU, 40% Vitamin C 60 mg, 100% Vitamin D 400 IU, 100% Vitamin E 30 IU, 100% Vitamin K 50 mcg, 63% Thiamin-Vitamin B1 1.5 mg, 100% Riboflavin-Vitamin B2 1.7 mg, 100% Niacin 20 mg, 100% Vitamin B6 2 mg, 100% Folate 800 mcg, 200% Vitamin B12 6 mcg, 100% Biotin 300 mcg, 100% Pantothenic Acid 10 mg, 100% Calcium 30 mg, 3% Iron 18 mg, 100% Iodine 150 mcg, 100% Magnesium10 mg, 2.5% Zinc 7.5 mg, 50% Selenium 50 mcg, 71% Copper 500 mcg, 25% Manganese 2 mg, 100% Chromium 50 mcg, 42% Molybdenum 75 mcg, 100% Mixed Carotenoids 1 mg. Mixed Carotenoids 2000 IU, Organic Cultured Herbal Extracts (Proprietary Blend) [Brown rice, Oats, Blueberries (fruit), Prunes (fruit), Blackberries (fruit), Flame Raisins (fruit), Kale (leaf), Spinach (leaf), Raspberries (fruit), Dandelion (leaf), Rose Hips (fruit), Lavender (flower), Lemon Balm (leaf), Peppermint (leaf), Cloves (bud), L.casei, L.plantarum, L.salivarius, L.acidophilus, L. rhamnosus, S. thermophilus, B. bifidum, B. infantis, B. longum, and B. breve 120 mg, Broccolive® Plus (sprouted seeds) (Broccoli, Cauliflower, Kale, Daikon Radish, Cabbage, and Mustard) 100 mg, Superfoods (Proprietary Blend) Cultured Organic Milled Soy 600 mg, Soy Lecithin (non-GMO)           12 mg
Other ingredients: Organic gum acacia, silica, organic pre-gelatinized maize starch, lac resin, and carnauba wax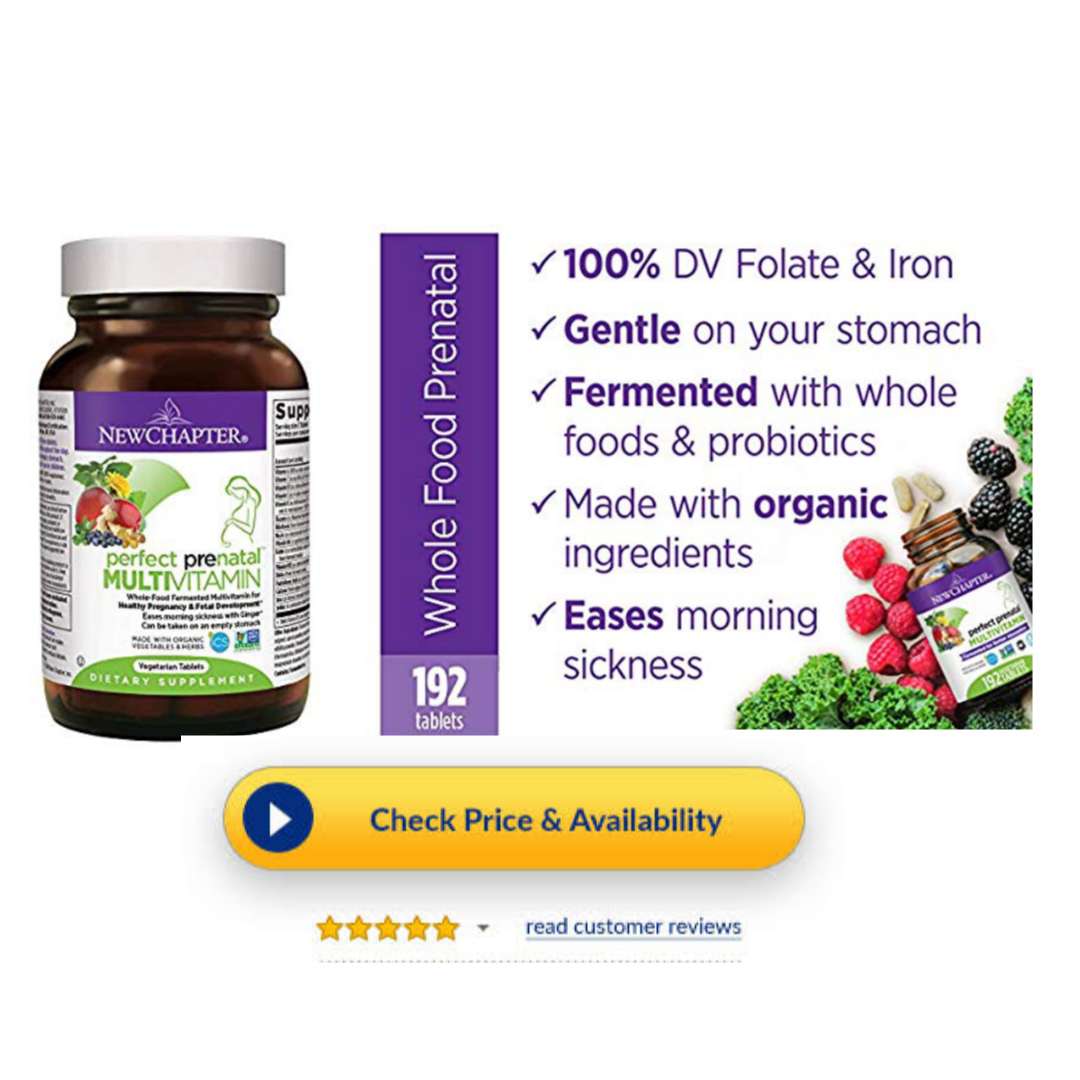 Essential Ingredients Found In New Chapter Perfect Prenatal Vitamin
One thing that I like about New Chapter prenatal vitamin is that it contains Probiotics. Probiotics have shown to increase fertility and lower the rate of spontaneous miscarriage in the first trimester. Probiotics have also been proven to reduce the incidence of eczema in early childhood by 50%. One of the most important ingredients found in New Chapter Prenatal Vitamin is Folate  and it contains 800mcg of it which is good. Vitamin B6 is another essential vitamin found in New Chapter but it is only at 2mg which is an insignificant amount, 25-50mg would be good. Calcium is also found in this supplement but it contains 30mg when it should really contain at least 750mg.
Essential Ingredients Missing In New Chapter Perfect Prenatal Vitamins
New Chapter Perfect Prenatal Vitamin I would say is far from perfect. Don't get me wrong I know there are a lot of good things found in this product but it definitely is not perfect. New Chapters Prenatal Vitamin is also missing ginger, in which I was surprised because it contains just about everything else. I also did not see Choline or Insitol in this product. DHA is also an essential vitamin that is not found in New Chapters Perfect Prenatal Vitamins. Also, as mentioned above many of the essential vitamins found in New Chapter Perfect Prenatal Vitamin are not at the needed amounts.
Overall Rating of New Chapter Perfect Prenatal Vitamin
This product is rated at the lower end of my list of prenatal vitamins. This prenatal supplement is missing several important ingredients needed during pregnancy. New Chapter Perfect Prenatal Vitamin also comes in tablet form which is hard to swallow and does not