Eating disorders are still highly significant in our society even though more people and celebrities are sharing their brave stories about personal struggles.
In fact, anorexia, bulimia, and binge eating disorders affect 30 million people in the United States today.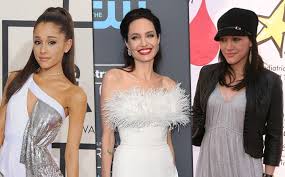 We've compiled a list of well-known celebrities with anorexia and those who have battled eating disorders in the past to shed focus on these issues.
The majority of these stars and their stories serve as a reminder that even in the darkest moments, there is hope and that with courage and determination, we can get through anything.
Examples include Hollywood sweethearts like Angelina Jolie, superstars like Taylor Swift, and even well-known men like Eminem.
To see our list of famous people who have eating disorders, scroll down.
Taylor Swift 
Eating Disorder: Anorexia
In her new Netflix documentary Miss Americana, Taylor Swift spoke up about a number of things, but maybe most notably about an eating issue she kept secret from the public and which was sometimes provoked by paparazzi photos or comments about her physique.
"I mistakenly believed that feeling faint at the conclusion or in the middle of a performance was all that was expected of me.
Now that I know, no, you can consume food, have energy, get stronger, and perform all these concerts without feeling it, which is a really fantastic realization because I'm a lot happier with who I am and don't care as much if someone criticizes me for gaining weight," she added. 
Read: Celebrity Surrogacy | Know the Truth about Celebrity Surrogacy
It wasn't how my body was intended to be, thus the fact that I'm a size 6 rather than a size 00 is wrong.
Simply said, I wasn't really aware of that at the time.
Lily Rose Depp
Eating Disorder: Anorexia
Lily Rose, a famous beauty and the daughter of Johnny Depp, struggled with anxiety as a youngster.
Her parents tried their best to conceal her identity as she grew up, but when she appeared too thin in the spotlight, rumors started to spread.
Years later, the actress came forward and admitted to having anorexia, saying, "I have expended a lot of energy fighting the disorder. It was quite challenging for me to deal with anorexia when I was much younger.
She went on to state, "I have battled an eating disorder for a long time, and am quite happy of the outcomes that I have achieved," while discussing some of the most challenging aspects of attempting to lead a regular life once more
Hilary Duff
Eating Disorder: Anorexia
Hilary Duff, the beloved comedy actress from our youth, has struggled with eating problems and body image issues far too often.
She revealed how unhealthily her adolescent years were when speaking with Health Magazine.
She weighed just 98 pounds at age 17. Duff continued by expressing her regret for that period of her life and confessing to having an eating condition.
"I was completely fixated on whatever I consumed. I was not cute; I was far too slender.
My hands would frequently cramp up because I wasn't getting the nutrition I required, and my body wasn't in great shape either.
After having her son, tabloids started to make fun of her figure. But after participating in this rodeo before, she made the decision to treat such critiques with a grain of salt after the birth of her daughter.
Hilary claims that since changing her diet, she is happier than ever.
Lindsay Lohan
Eating Disorder: Bulimia, anorexia
At such an early age, the Mean Girls actress won our hearts and became known as America's Sweetheart.
Although Lindsay Lohan is well-known for her drug use, few people are aware of her battles with bulimia and anorexia.
She lost a lot of weight during her peak years in the early 2000s, which caused many people to look at her with concern.
When her drug usage and malnutrition resulted in a kidney ailment, Lohan realized she had to change.
"I felt ill. Everybody was terrified. I was terrified as well.
At the time, Lohan recalled, "I had people sit me down and tell me, 'You're going to die if you don't take care of yourself.
The actress now speaks out in support of those who are experiencing similar difficulties.
Halsey
Eating Disorder: Unspecified
Halsey, the pop singer best known for the singles Bad at Love and Without Me, has a reputation for thriving in the spotlight.
She is frank and insightful about the difficulties she has encountered, including her bipolar disorder and eating disorder.
See also:Pink Pussycat Pills | What You Need to Know About It
This famous person has long had eating issues, and in December 2020, she came under fire for posting a selfie in the mirror while wearing nothing but a shirt.
Halsey soon removed the image after claiming that it represented her "lowest time" in her eating issue since some people perceived it as romanticizing eating disorders.
Halsey said in a recent interview with Rolling Stone that the disease has persisted despite her efforts to treat it: "It's still happening in my body.
I simply know when to move ahead of it.
Lady Gaga
Eating Disorder:anorexia and bulimia
Lady Gaga claimed in 2012 on her website Little Monsters that she had battled anorexia and bulimia since she was 15 years old.
She uploaded images and wrote posts on her cycles of weight gain and decrease.
Her Born This Way Foundation helps young people find services to deal with challenges like bullying, drug and alcohol use, and body image.
The organization exists to show struggling teenagers that they are not alone and to contribute to the development of a more compassionate society.
It's really hard, but... you've got to talk to somebody about it, she says as she continues to encourage people who are having body image issues.
Diana, Princess of Wales
Eating Disorder: Bulimia
In 1994, Princess Diana opened up in public about her struggles with bulimia and self-mutilation.
"I am persuaded that the final solution resides within the individual," she asserted in her public speech.
However, those who suffer from eating disorders can improve their ability to cope with their life with the assistance and gentle nurturing provided by specialists, family, and friends.
Many individuals gained the confidence to start talking about their own eating problems as a result of her courageous speech about her eating disorder and personal struggles. Princess Diana worked to raise awareness of eating disorders and to improve knowledge of bulimia.
Jane Fonda
Eating Disorder: Bulimia
One of the first well-known women to openly discuss eating issues was Jane Fonda.
She admitted that she has battled bulimia ever since she was 12 years old, going through cycles of bingeing, purging, and limiting.
According to Fonda, her eating disorder is in part a result of the way she was raised.
"I was taught to think that if I wanted to be loved, I had to be thin and pretty," she says.
That causes a great deal of difficulties. She has worked to increase public understanding of bulimia and anorexia.
She has established herself as a role model for women of all ages by being upfront about her 30-year fight with eating disorders.
Angelina Jolie
Eating Disorder: Anorexia
For the majority of her life, Angelina Jolie has had eating issues, and for even longer, she has faced criticism for her appearance.
She was frequently mentioned in tabloids for being so thin that her veins protruded or for having such a severe weight loss that it appeared as though she had undergone surgery.
The A-list actress, however, checked herself into a hospital in September 2021 due to her eating disorder.
Later that day, a source claimed to National Enquirer that "her nonexistent eating habits have been the elephant in the room for longer than anyone can recall."
The star battled anorexia as a teen and, according to reports, even sought treatment for "eating difficulties" brought on by worry just a few years ago.
Russell Brand
English comedian, actor, host of a radio show, and YouTuber Russell Brand has been candid about his history of mental illness, including having binge eating disorder as a child.
Russell Brand discusses his love of comfort food and how he often feels self-conscious after indulging in it in his book Russell Brand on Self-Esteem & Food.
He has discovered that he requires structure around food, to make thoughtful, healthy decisions, and to appreciate and cherish his body.
I suppose what I have to let go of is the notion of the archetype of the ideal physique, which is what I'm trying to strive for, he says.
Read also : List of 54 Nigerians' food that gives blood during pregnancy