It's a simple fact that pineapple holds a special place in the hearts of everyone! And it's not just because of its incredibly sweet taste but rather the number of health benefits it offers to those who consume it. 
But as a woman, have you ever wondered what pineapple can do specifically for you? Well, today's your lucky day because we're about to spill some delicious secrets about this delicious fruit you haven't heard about and some of the surprising benefits it holds for women.

So, if you've been pondering, "What does pineapple do to a woman?" — this article is for you. Here, we'll explore all the incredible ways pineapple can positively impact your health and well-being. By the time you've finished reading this article, you'll be itching to rush to the grocery store and stock up on this delectable fruit.
What Does Pineapple do to a Woman | Exploring the Health Benefits of Pineapple to a Woman
1. Boosts Immunity
Pineapple is packed with vitamin C, a powerful antioxidant that helps strengthen the immune system. A robust immune system is crucial for women to stay healthy and fight off common illnesses such as colds and flu. By including pineapple into your diet, you can give your body an extra dose of this immunity-boosting vitamin, keeping you feeling your best year-round.
Read Also: Benefits of Bragg's Amino Acids
2. Improves Digestion
The bromelain enzyme present in pineapple aids in digestion by breaking down proteins and promoting healthy gut function. This can help alleviate digestive issues such as bloating and constipation, ensuring that women maintain optimal digestive health.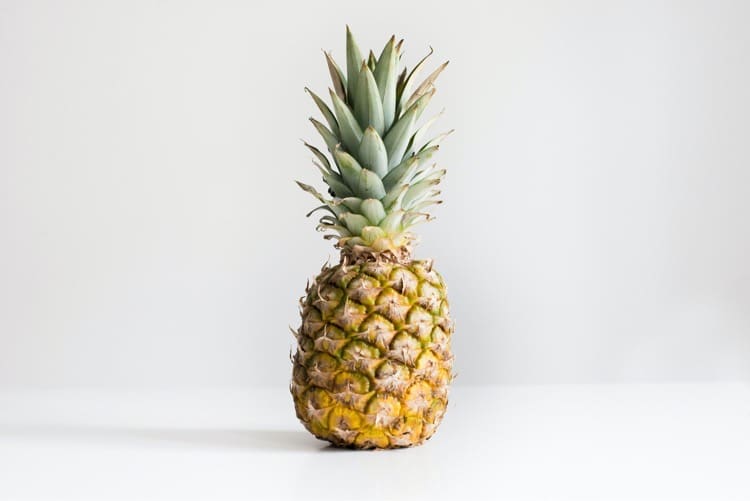 3. Fights Against Breast Cancer
Studies have shown that the antioxidants found in pineapple, including vitamin C and various flavonoids, may help reduce the risk of breast cancer. These compounds work together to combat free radicals and protect cellular DNA from damage.
4. Reduces Inflammation
Women dealing with inflammatory conditions like arthritis, joint pain or menstrual cramps can benefit from consuming pineapple due to its anti-inflammatory properties. Bromelain helps reduce inflammation throughout the body, easing discomfort and promoting overall well-being.
5. Promotes Healthy Skin
Pineapple contains collagen-boosting enzymes that play a vital role in maintaining youthful-looking skin. Regular consumption of this tropical fruit can promote skin elasticity, reduce wrinkles or signs of aging, and improve overall complexion for women seeking a radiant glow.
6. Enhances Eye Health
Loaded with beta-carotene and vitamin A, pineapples are excellent for maintaining good eye health. These nutrients support proper vision function while protecting against age-related macular degeneration (AMD) - a common condition affecting older women, and glaucoma.
7. Boosts Fertility
Certain vitamins found in pineapples such as folate have been linked to improved fertility in women. Additionally, bromelain has been suggested to enhance implantation during pregnancy by reducing inflammation within the uterus lining.
8. Provides Important Nutrient During Pregnancy
Speaking of pregnancy, pregnant women need a wide range of nutrients to support their growing baby's development. Pineapple comes to the rescue by providing essential vitamins like folate, which plays a vital role in preventing certain birth defects. It also contains manganese, which aids in bone health for both mom and baby.
Read Also: Can You Take Collagen While Trying to Conceive?
9. Strengthens Bones
As women age, they become more susceptible to bone-related issues like osteoporosis. Thankfully, pineapple contains significant amounts of manganese and trace minerals like copper and magnesium, all necessary for maintaining strong and healthy bones.
10. Supports Heart Health
Heart disease is one of the leading causes of death among women worldwide. Luckily, pineapple offers heart-healthy benefits thanks to its high content of potassium and fibre. Potassium helps regulate blood pressure levels while fibre assists in lowering cholesterol levels – a winning combination when it comes to keeping your heart health in top shape!
Read Also: How to Avoid Heartburn After Eating Pizza
Now that you are aware of the potential benefits associated with consuming pineapples, let's take a look at some of the side effects certain individuals could have when they consume pineapple in excess.
Potential Side Effects of Pineapple to a Woman
Allergic Reactions

: While pineapple is generally safe for most people, some individuals may experience allergic reactions to the fruit. Symptoms can range from mild itching and hives to more severe reactions such as difficulty breathing or swelling of the tongue and throat.

Digestive Issues

: Pineapple contains bromelain, an enzyme that aids in digestion. However, consuming excessive amounts of pineapple can lead to digestive discomfort such as diarrhoea or stomach cramps due to its high fibre content.

Acid Reflux

: For women who suffer from acid reflux or gastroesophageal reflux disease (GERD), pineapple may exacerbate symptoms due to its acidic nature. It is advisable for these women to consume pineapple in moderation or avoid it altogether. 

Interference with Medications

: Pineapple contains compounds that may interact with certain medications such as blood thinners, antibiotics, antidepressant and anticoagulants. Consultation with a healthcare professional is advised for women taking these medications.

Increased Risk of Diabetes

: Sugar found in pineapple is generally considered healthier, however, excessive consumption of commercially available pineapple juice can lead to weight gain and insulin resistance over time due to the added sugar. This can increase the risk of developing type 2 diabetes or exacerbate existing diabetes symptoms for women who already have this condition.

Conclusion
Now that we've come to the end of this article, I hope we've been able to address the question you've been wanting to know, "what does pineapple do to a woman." From boosting immunity to improving digestion, this tropical fruit offers numerous advantages that can positively impact a woman's well-being.
However, it is important to note that although pineapple does have many potential health benefits, it may not be suitable for everyone. Some individuals may experience side effects such as allergies or digestive issues when consuming pineapple in large quantities.
By incorporating pineapple into your diet, you can bring about various positive changes to your overall health as a woman —all while tantalizing your taste buds!