In the realm of scrumptious homemade treats, oatmeal cookies have a special place. They offer a delightful blend of chewiness, nuttiness, and a touch of sweetness that makes them an all-time favorite for cookie enthusiasts.
In this article, we'll unveil the secrets to crafting the best oatmeal cookies ever. Whether you're a seasoned baker or just starting, follow this easy recipe guide for a batch of irresistibly delicious oatmeal cookies.
What Kind of Oats Do You Use for Oatmeal Cookies?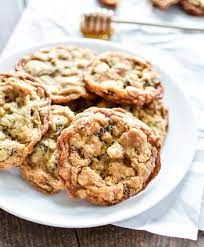 Oatmeal is the star so it's important to use the right kind of oats. For this oatmeal cookie recipe, you can use old-fashioned oats, also called rolled oats. When processed, the whole grains of oats are first steamed to make them soft and pliable, then pressed to flatten them. The oats look like flat, irregular discs1https://www.twopeasandtheirpod.com/oatmeal-cookies/.
Old-fashioned oats provide a chewy, nutty texture and flavor to oatmeal cookies. They are thicker and heartier than quick oats (instant oats)2https://www.cookingclassy.com/oatmeal-cookies/.
Nutritional Information Per Serving:
Calories: 226kcal

Carbohydrates: 32g

Protein: 3g 

fat: 9g

Cholesterol: 36mg

Sodium: 143mg

Potassium: 70mg

Fiber: 1g

Sugar: 14g

Vitamin A: 265IU

Calcium: 21mg

Iron: 1.2mg
The Recipe For The Best  Oatmeal Cookies
Prep time: 10 mins
Cook time: 15 mins
Total time: 25 mins
Yields: 24 serving(s)
Equipments and Kitchen Utensils Used in the Recipe:
Mixing bowl

Electric mixer or hand whisk

Measuring cups and spoons

Rubber spatula or wooden spoon

Baking sheets or cookie sheets

Parchment paper or silicone baking mats

Cooling rack
Ingredients
:
1 cup of unsalted butter, softened

1 cup of brown sugar (packed)

½ cup of granulated sugar

2 large eggs

2 teaspoons of pure vanilla extract

1 ½ cups of all-purpose flour

1 teaspoon of baking soda

½ teaspoon of salt

1 ½ teaspoons of ground cinnamon

3 cups of old-fashioned rolled oats

1 cup of your favorite add-ins (chocolate chips, raisins, nuts, etc.)
Instructions
Preheat the oven to 350˚F.

In the bowl of an electric mixer (or using a hand mixer), beat together the butter and brown sugar until fluffy. Beat in the vanilla. Add the eggs, one at a time, beating after each addition and scraping the bowl as needed.

In a medium bowl, whisk together the flour, salt, and baking soda. Add the flour mixture to the butter mixture in 2 to 3 parts, mixing until just combined after each addition. Mix in the oats until just combined.

Use your preferred size cookie scoop (or a regular spoon) to drop portions of dough onto a lightly greased cookie sheet, spacing them a couple of inches apart. Bake for 12 to 13 minutes or until dark and chewy. If you'd like a crispier cookie, just cook it a little longer!

After removing them from the oven, let the cookies cool slightly on the pan, then transfer the cookies onto a plate for serving.
How to Store & Freeze
Store the cooled cookies in an airtight container on the counter for up to 3 days. You can also freeze the baked cookies for up to 3 months. 

You can also freeze the cookie dough. Scoop the cookies into balls and place on a baking sheet or tray. Put in the freezer until the balls are firm. Transfer the balls to a freezer container or bag and freeze for up to 3 months. When ready to bake, remove from the oven and add a few minutes to the baking time.
Delightful, Wholesome, and Irresistible: Unleashing the True Magic of Best Oatmeal Cookies
Congratulations! You've mastered the art of baking the best oatmeal cookies. With this foolproof recipe, you can now indulge in the goodness of chewy, delicious oatmeal cookies straight from your own oven.3https://www.allrecipes.com/recipe/19247/soft-oatmeal-cookies/
Share these delightful treats with family and friends, and let the aroma of freshly baked cookies fill your home with warmth and happiness. Happy baking!