The desire for a shapelier buttocks has always been a part of human culture, and throughout history, people have tried various methods to enhance their assets, with some opting for surgical procedures or going "under the knife," which I would say, is the most preferable option for most women when it comes to attaining that rounder, fuller buttocks. 
However, little did they know that there are, in fact, safer and more holistic approaches to achieve that curvaceous buttocks, one that doesn't require going "under the knife" or draining your finances on expensive treatments. One of such approaches involves the use of fenugreek oil, and I'm going to show you how to make it happen.
You might be wondering, "What's the deal with fenugreek oil, and how can it help me achieve the perfectly round, fuller buttocks without going under the knife? Well, there's a lot more to this remedy than meets the eye. But be rest assured, we'll break it all down for you, step by step, and show you precisely how to use fenugreek oil for buttocks enlargement, all while avoiding invasive procedures.
What is Fenugreek Oil?
Fenugreek oil is derived from the seeds of the fenugreek plant, scientifically known as Trigonella foenum-graecum. This ancient herb has been used for centuries in traditional medicine and culinary practices across various cultures. Fenugreek oil is rich in essential nutrients such as vitamins A, C, and K, as well as minerals like iron and calcium.
Read Also: Coconut Oil For Skin Whitening: Discover its Amazing Benefits and How to Use it
How Does Fenugreek Oil Works to Enlarge the Buttocks
Fenugreek oil contains a compound called diosgenin, which is a phytoestrogen. Phytoestrogens mimic the effects of oestrogen in the body, promoting growth and development. 
Oestrogen is an hormone responsible for the growth and development of the secondary sexual characteristics of a female, which includes the buttocks.
When applied topically to your buttocks, fenugreek oil stimulates oestrogen receptors in that area, leading to increased fat deposition and muscle growth. 
In addition to that, fenugreek oil also improves blood circulation when massaged onto the skin. This improved blood flow helps deliver essential nutrients and oxygen to your gluteal muscles, encouraging their growth and firmness.
How to Prepare Fenugreek Oil For Buttocks Enlargement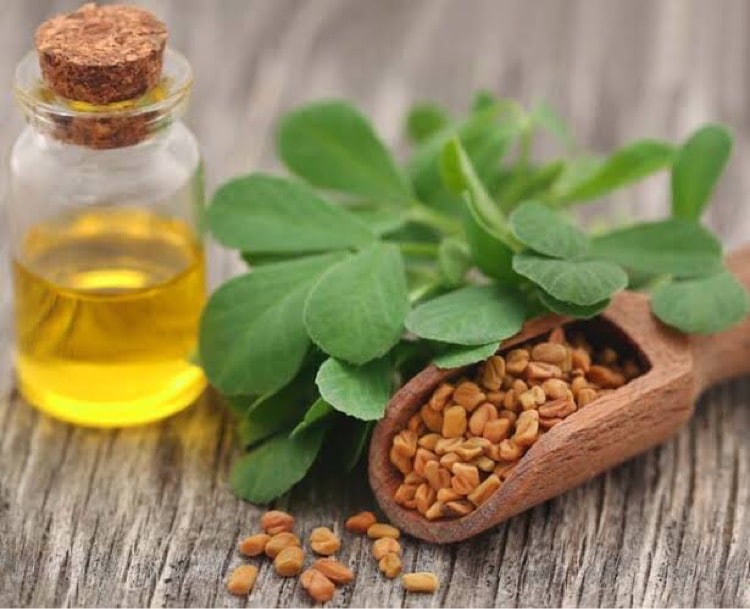 There are two methods in which you can prepare fenugreek oil in the comfort of your kitchen: hot fusion method and cold-pressed method. However, before moving on further, let's take a look at the ingredients needed to prepare one. 
Ingredients Needed to Prepare Fenugreek Oil For Buttocks Enlargement
Fenugreek Seeds

Blender or Coffee Grinder

Carrier Oil (such as coconut oil or olive oil)

A Frying Pan

A Wooden Spoon

Gas or Hot Plate

Cheesecloth or Strainer

Glass bottle with tight lid

Mini pestle and mortar
Steps to Prepare Fenugreek Oil For Buttocks Enlargement
#1. Method 1: Hot Fusion Method
Step 1: Start by purchasing high-quality fenugreek seeds from a reputable source. These seeds are available in most health food stores or online.
Step 2: Take about half a cup of fenugreek seeds and grind them into a fine powder using a blender or coffee grinder. The finer the powder, the better it will infuse with the oil later on.
Step 3: Heat some coconut oil in a pan over low heat until it melts completely. Once melted, add the powdered fenugreek to the oil and stir well to ensure that all the particles are evenly distributed.
Step 4: Cover the pan with a lid and let it simmer for about 15-20 minutes on low heat. This allows enough time for the fenugreek powder to infuse its beneficial properties into the oil.
Step 5: Remove the pan from heat and let it cool down naturally. Once cooled, strain out any solid particles using cheesecloth or a fine-mesh strainer.
Step 6: Transfer your freshly prepared fenugreek oil into an amber glass jar with a tight lid for storage. Make sure to label it properly with both its name and preparation date for future reference.
#2. Method 2: Cold-Pressed Method
Step 1: Start by acquiring high-quality fenugreek seeds and carrier oil such as coconut or olive oil. Ensure that the seeds are fresh and free from any impurities.
Step 2: Take a clean glass jar with an airtight lid and add one cup of carrier oil into it. Then, crush two tablespoons of fenugreek seeds using a mini mortar and pestle until they become powdery.
Step 3: Add the crushed fenugreek seeds into the jar containing the carrier oil. Stir well to ensure that all the ingredients are mixed properly.
Step 4: Tightly close the lid of the jar and place it in a cool, dark place like your pantry or cabinet. Allow this mixture to infuse for at least two weeks so that all the beneficial properties of fenugreek seeds get absorbed into the carrier oil.
Step 5: Shake the jar gently every few days during this period to enhance infusion. After two weeks, strain out any solid particles from your homemade fenugreek oil using cheesecloth or fine mesh strainer.
Congratulations! You now have your very own homemade fenugreek oil ready for use. Store it in a clean bottle away from direct sunlight for long-lasting freshness.
Read Also: How to Make Your Stomach Flat Overnight
Now that you have learned how to prepare fenugreek oil at home specifically for buttocks enlargement purposes let's move on to discovering different ways of using this powerful ingredient!
Best Ways to Use Fenugreek Oil for Buttocks Enlargement
Massage

: One of the best ways to use fenugreek oil for buttocks enlargement is through massage. Start by warming up a few tablespoons of fenugreek oil and gently massage it onto your buttocks in circular motions. This helps improve blood circulation, stimulate the growth of new cells, and enhance the absorption of nutrients into the skin.

DIY Butt Serum

: Create a DIY butt serum by combining fenugreek oil with other natural ingredients known for their skin-enhancing properties such as vitamin E oil, shea butter, and essential oils like lavender or rosemary. Apply this serum daily for optimal results.

Consume Fenugreek Oil

: While topical application is effective, consuming fenugreek oil internally can also help enhance buttock size. You can add a few drops of fenugreek oil to your favourite smoothie or mix it into yoghurt for a tasty treat that also aids in butt growth.
What are Other Ways to Include Fenugreek Oil into Your Beauty Regime
Including fenugreek oil in your beauty regime can offer numerous benefits beyond buttocks enlargement. Here are some other ways you can incorporate fenugreek oil into your routine to enhance your overall beauty:
Hair Growth

: Fenugreek oil is known for its ability to promote hair growth and prevent hair loss. Mix a few drops of fenugreek oil with a carrier oil such as coconut or olive oil, and massage it onto your scalp. Leave it on overnight and rinse it off in the morning.

Skin Hydration

: Fenugreek oil is rich in antioxidants that help hydrate and nourish the skin. You can mix a few drops of fenugreek oil with your moisturizer or simply apply it directly to dry areas of your skin for added hydration.

Acne Treatment

: The antimicrobial properties of fenugreek oil make it effective in treating acne and reducing inflammation. Dilute a few drops of fenugreek oil with water, apply it to affected areas using a cotton pad, and leave it on overnight.

Nail Care

: Fenugreek oil can strengthen weak nails and promote healthy nail growth when applied regularly as a cuticle treatment or mixed with hand cream.
Side Effects of Using Fenugreek Oil for Buttocks Enlargement
Using fenugreek oil for buttocks enlargement may have some potential side effects that you should be aware of. While fenugreek is generally considered safe when used in moderation, it can cause certain adverse reactions in some individuals.
One possible side effect of using fenugreek oil is skin irritation or allergic reactions. Some people may develop redness, itching, or a rash after applying the oil topically. It's important to do a patch test before using fenugreek oil on a larger area to see if you have any sensitivity to it.
Read Also: 6 Equipment Free Ways on How to make your buttocks big
Another potential side effect is digestive issues. Fenugreek seeds and oil are known for their ability to stimulate digestion and relieve constipation. However, consuming excessive amounts of fenugreek oil may lead to diarrhoea or an upset stomach.
Conclusion
Incorporating fenugreek oil into your beauty regime can be a game-changer when it comes to enhancing the size and shape of your buttocks. By following the steps outlined in this article, you can easily prepare fenugreek oil at home and use it effectively for buttocks enlargement.
Remember, consistency is key. Make sure to apply fenugreek oil on a regular basis, massaging it gently into your skin to promote better absorption. Additionally, combining its use with exercises that target the glute muscles will yield even better results.