If you've been looking for how to make neem oil at home, then I just want to let you know that your search has come to an end because in this well-detailed guide, we'll be going over the steps on how to make neem oil at the comfort of your home with just a few ingredients.
The importance of knowing how to make neem oil in the comfort of your own home cannot be overemphasised especially when this versatile product offers numerous benefits, ranging from promoting hair growth to acting as a potent insecticide, while also possessing the remarkable ability to brighten and rejuvenate the skin. 
In this article, we will walk you through the steps of making neem oil right in the comfort of your own home with just a few ingredients and equipment. That's not all! We will also explore its numerous benefits, and offer tips on proper storage. So, without any further delay, let's get things started.
Step by Step Guide on How to Make Neem Oil At Home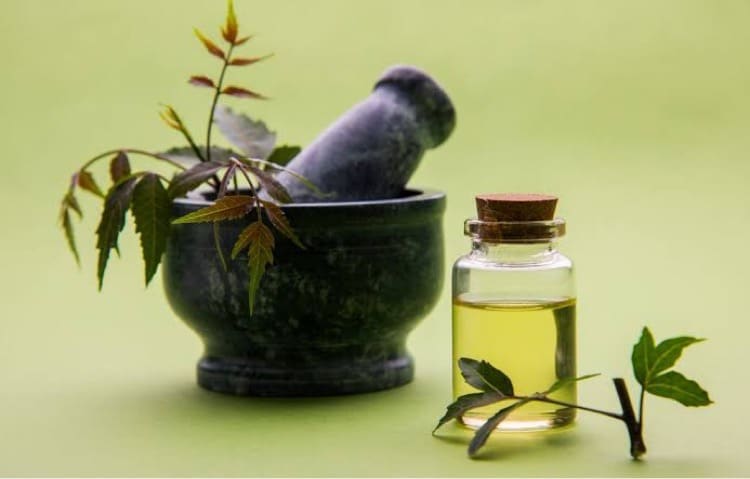 The process of making Neem oil at home using Neem leaves or stems can be done with two methods: either the cold-pressed method or the hot fusion method. The Neem leaves and stems make up the valuable part of the neem plant, which is why oil gotten from the leaves or stem are a widely cherished solution for beauty and skincare uses. Let's find out how to easily prepare Neem oil using any of these two methods.
Read Also: Everything You Need To Know On How To Make Soya Beans Powder
#1. Method 1: Cold Pressed Method
Ingredients/Items Needed
Fresh neem leaves

Coconut oil or any other carrier oil

Glass jar with a lid

Bowl

Knife

Sieve
Steps on How to Make Neem Oil At Home Using this Method
Step 1: Begin by washing the leaves thoroughly to remove any dirt or debris. Then leave it to dry off or you can gently pat with a dry towel to hasten the process. 
Step 2: Chop the leaves a little using a sharp knife then pour it inside a glass jar and add coconut oil to the leaves to cover it up. 
Step 3: Cover the lid tightly and store in a cool dry place for up to a week, this act will allow the leaves pass on its nutrients, which will then combine with the coconut oil. 
Step 4: After two weeks, gently open the glass jar and sieve out the content into a bowl to receive your fresh and pure neem oil, then pour back into a glass jar and store properly.
#2. Method 2: Hot Fusion Method
Ingredients/Items Needed
Fresh neem leaves

Coconut oil or any other carrier oil

Glass jar with a lid

Bowl

Blender or a food processor

Sieve

Pot

Water

Wooden spoon or spatula
Steps on How to Make Neem Oil At Home Using this Method
Step 1: Thoroughly wash the neem leaves to remove any dirt or debris. This step ensures that your homemade neem oil is clean and pure.
Step 2: Place the washed neem leaves into a blender or food processor blend until you have a powdery or flaky like form.
Step 3: Pour the blended Neem leaves into a bowl and add an adequate amount of coconut oil or any other carrier oil such as virgin oil into it. 
Step 4: Turn on your gas and place your pot on it, then add half a cup of water into the pot and leave it to heat a little. 
Step 5: After a while, place the bowl containing the mixture of blended Neem leaves and oil into the pot. 
Step 6: As the mixture gradually begins to heat up, stir occasionally using a wooden spoon or spatula to allow the transfer of nutrients from the Neem leaves combined with the oil. 
Step 7: While the mixture continues to heat, once you notice that the oil has turned green, then the mixture is ready, you can now turn off the heat and allow the mixture to cool a little. 
Step 8: Once cooled, use a cheesecloth or sieve to strain the cooled mixture into a clean bowl. This will help remove any remaining plant material and ensure that your homemade neem oil is smooth.
Step 9: Transfer your freshly made neem oil into an airtight container or glass jar with a tight lid and store it in a cool, dark place.  
Congratulations! You now have homemade neem oil ready for use.
Read Also: Step-By-Step Guide on How to Make Coconut Oil at Home (With Video)
Benefits of Neem Oil
Now that you know how to make neem oil at home, what exactly are the benefits you can get from using Neem oil, let's find out;
Natural Pest Control

: Neem oil acts as a natural repellent against pests like aphids, mealybugs, mites, and more, keeping these unwanted visitors at bay without resorting to harmful chemical pesticides.

Skin Care Savior

: Neem oil helps soothe irritation and redness caused by conditions like acne, eczema, and psoriasis. Its antimicrobial properties also make it effective in fighting off bacteria that can lead to breakouts.

Moisturizes Hair

: If you have dry or damaged hair, this natural ingredient nourishes the scalp and helps restore moisture to dry strands. Regular use of neem oil can leave your hair looking shiny and healthy.

Improves Oral Health

: Neem oil is commonly used in oral care products due to its antibacterial properties that help fight plaque-causing bacteria which leads to gum disease and cavities. Its regular use can promote healthier gums while keeping bad breath at bay.

Reduces Dandruff

: Say goodbye to those pesky white flakes with the help of neem oil. Regular application of diluted neem oil on the scalp can reduce dandruff by moisturizing the scalp, fighting off fungal infections, and soothing itchiness, leaving you with flake-free and lustrous hair.
Video Showing How to Make Neem Oil at Home Using Both Methods
How to Properly Store Neem Oil 
Properly storing neem oil is essential to maintain its effectiveness and prolong its shelf life. Here are some important steps to follow when it comes to storing neem oil:
Choose the right container

: Opt for a dark-coloured glass bottle or jar with a tight-fitting lid. This will help protect the oil from light and air exposure, which can degrade its quality.

Keep it cool

: Neem oil should be stored in a cool, dry place away from direct sunlight and heat sources. Excessive heat can cause the oil to spoil faster.

Avoid moisture

: Moisture can lead to the growth of mould or bacteria in the neem oil, rendering it ineffective. Make sure that your storage area is free from any dampness or humidity.

Label properly

: It's always a good idea to label your neem oil container with the date of preparation. This will help you keep track of its freshness and ensure that you use it within its recommended timeframe.

Check for signs of spoilage

: Before each use, inspect your neem oil for any changes in colour, texture, or odour. If you notice any pungent smell or discoloration, it's best to discard the oil as it may no longer be effective.
By following these simple storage guidelines, you can ensure that your homemade neem oil remains potent and ready for use whenever needed!
Conclusion
In this step-by-step guide, we have learned how to make neem oil at home. By following these simple steps, you can harness the power of this amazing natural remedy right in your own kitchen.
Neem oil is not only easy to make but also offers a wide range of benefits. From promoting healthy skin and hair to acting as an effective insect repellent, neem oil has numerous uses that make it a must-have in every household.
By making your own neem oil, you can ensure its purity and quality. Plus, it's a cost-effective alternative to store-bought options.