Nature Made makes a variety of supplements from Vitamin A to Zinc. They are known for making affordable supplements that are readily available. The question is, do they make high enough quality supplements for you to choose, Nature Made Prenatal Multi + DHA, to be the vitamin that helps to nourish your growing baby?
Is Nature Made Prenatal Multi + DHA A High-Quality Vitamin?
Nature Made sells many over the counter supplements, that are available at most grocery stores. Nature Made has always made a prenatal vitamin, but has recently improved their old formulation. However, it seems to me, that not all the changes were improvements.
Nature Made Prenatal Multi + DHA Ingredient Overview
I am very disappointed that this prenatal contains synthetic food dyes. Nature Made Prenatal Multi + DHA contains  Yellow beeswax. These dyes are completely unnecessary and should be avoided by pregnant women. According to WebMD, there isn't enough reliable information to know if beeswax is safe to use when pregnant or breast-feeding. Stay on the safe side and avoid use.
I like that Nature Made Prenatal Multi + DHA doesn't contain yeast or gluten. However, other than that, there isn't much to brag about with this prenatal vitamin. It does contain the bare minimums for recommended vitamins for pregnant women, but it doesn't contain extras.
The ingredients in this supplement meet recommend standards for a prenatal vitamin, but that's about it. Nature Made Prenatal Multi + DHA does not go above and beyond the bare minimum to offer advanced ingredients such as; CoQ10, probiotics, and ginger.
I do like the fact that Nature Made Prenatal has been improved, it now comes in a soft gel cap and they have added DHA.
Ingredients in Nature Made Prenatal Multi + DHA: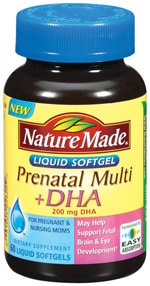 Vitamin A (as Beta Carotene) 770 mcg, Vitamin C (as Ascorbic Acid) 85 my, Vitamin D3 (as Cholecalciferol) 25 mcg (1000 IU), Vitamin E (as d-Alpha Tocopherol) 15 my, Vitamin K (as Phytonadione) 90 mcg, Thiamin (as Thiamine Mononitrate) 1.4 my, Riboflavin 1.4 my, Niacin (as Niacinamide) 18 mg, Vitamin B6 (as Pyridoxine Hydrochloride) 1.9 mg, Folate 1330 mcg DFE (800 mcg Folic Acid), Vitamin B12 (as Cyanocobalamin) 5.2 mcg, Biotin 30 mcg, Pantothenic Acid (as d-Calcium Pantothenate) 6mg, Calcium (as Calcium Carbonate) 150 mg, Iron (as Ferrous Fumarate) 27 mg, lodine (as Potassium lodide) 150 mcg, Magnesium (as Magnesium Oxide) 45mg, Zinc (as Zinc Oxide) 11 mg, Omega-3 Fatty Acids (from Fish Oil Concentrate)" 260 my, Omega-3 Docosahexaenoic Acid (DHA)" 200 mg, Omega-3 Eicosapentaenoic Acid (EPA)" 60 mg
How much is Nature Made Prenatal Multi + DHA?
A one month supply is around $14.00. Nature Made products are readily available at a variety of well-known stores. You can also purchase Nature Made Multi Prenatal Vitamins online. This product is definitely one of the cheapest prenatal vitamins on the market, but it appears to be inexpensive for a reason.
Directions :
Adults, take 1 soft gel daily with water and a meal for optimal absorption. Store tightly closed, in a cool, dry place, out of reach of children. Do not use if imprinted seal under cap is broken or missing.
Nature Made Prenatal Multi + DHA Conclusion
I just can't get past the artificial dyes in this prenatal vitamin to recommend it. There are much better prenatal vitamins available that don't contain these unnatural dyes. Don't get me wrong, taking Nature Made Prenatal Multi + DHA is certainly better than not taking anything, but it's definitely not the best prenatal for your baby.
If Nature Made Multi Prenatal is all you can afford, then it's certainly better than nothing, but if you're concerned about having the best prenatal vitamin to provide nutrients to your baby, then this is not it. I would consider Nature Made Multi Prenatal behind the times, there are better prenatal vitamins that contain up to date ingredients, like CoQ10. Below are high-quality prenatal vitamins I highly recommend.
Here are other prenatal vitamins: